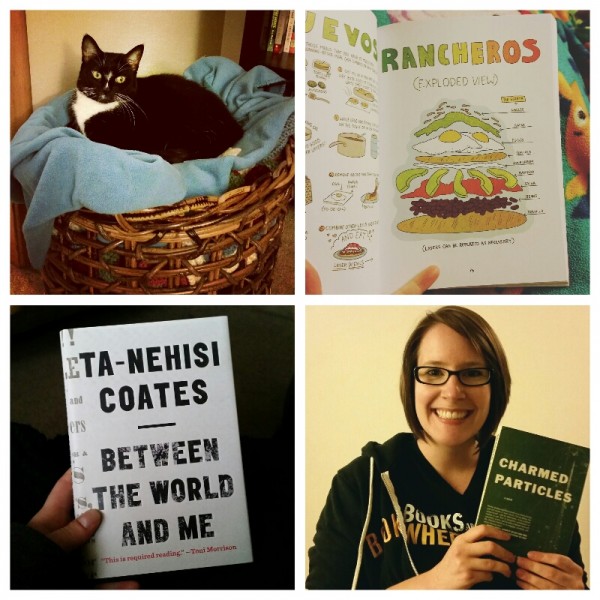 Time and Place | Just before 8 a.m., on my favorite chair in our living room. I woke up pretty early this morning, and while I'm sad to not be curled up in bed I do love a long, quite morning.
Reading | It's been a good week on the reading front — Nonfiction November has really energized me. I finished Lafayette in the Somewhat United States by Sarah Vowell and Relish by Lucy Knisley, and started in on Between the World and Me by Ta-Nehisi Coates and H is for Hawk by Helen Macdonald. I also finally got to start Re Jane by Patricia Park, which arrived from the library after a very, very long wait.
Watching | We caved and bought the second season of Fargo on Amazon Prime. So far, it might be even better than season one, although I do miss grown up Molly Solverson.
Listening | The Hamilton soundtrack is on repeat around here, and I spent a lot of time reading through the annotated lyrics on Genius. Fully obsessed.
Cooking | November continues to be surprisingly mild, so we're using the grill as long as possible. We had burgers last night and might splurge on steak for tonight.
Blogging | This week was all about Nonfiction November. I posted our first topic — Your Year in Nonfiction — on Monday, and tried to wrap up the week's posts on Friday. This week will be hosted by Leslie (Regular Rumination), and the topic is Book Pairings:
This week, pair up a nonfiction book with a fiction title. It can be a "If you loved this book, read this!" or just two titles that you think would go well together. Maybe it's a historical novel and you'd like to get the real history by reading a nonfiction version of the story.
Promoting | My friend Chrissy Kolaya's first novel, Charmed Particles, is out this week from Dzanc Books. It's really great — I wrote about it at Book Riot and, in a sweet benefit of my job, got to write about the book in the local newspaper. I'm excited for it to be out in the world. 
Hating | I am SUPER BUMMED not to be at Book Riot Live this weekend. But going on another trip just wasn't in the cards (i.e. the budget) for this year, so I'll just be stalking the #brlive hashtag in jealousy.
Loving | Hannah finally discovered that the basket we store extra pillows and blankets it makes a good place to sleep. It is the most adorable thing ever.
Anticipating | My plan is to really focus this morning and get some writing done. I've got Nonfiction November posts to write, some pieces for Book Riot that I want to finish, and some books begging for reviews. If I can put my head down, I think I can get most of that done before football starts at noon.
Happy Sunday, everyone! What are you reading today?