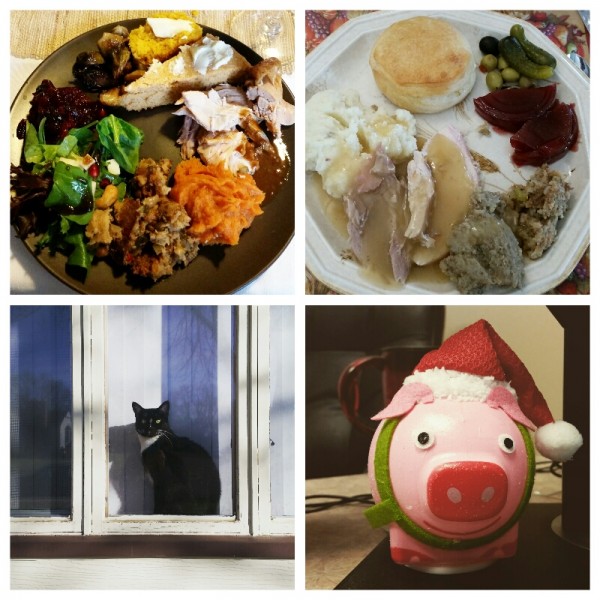 Time and Place | About 8:30 a.m., in the quiet living room at my parents house. This is going to be the setting for the next three weekends — I didn't plan my December travel well and will be on the road a lot.
Eating and Drinking | Just so tea so far this morning, I'm still a little full from all the great food we had yesterday as part of Thanksgiving II. Hooray for leftovers.
Reading | Happily, a day off work and a day being lazy were great for my reading. I finished Re Jane by Patricia Park and Step Aside, Pops by Kate Beaton (of Hark, a vagrant) fame — both excellent. I'm hoping to finish The Dead Duke, His Secret Wife and the Missing Corpse by Piu Marie Eatwell today, but we'll see.
Watching | My sister, mom and I continued our holiday tradition of watching the new Hallmark Christmas movies last night. We play a game to see who can predict the plot the earliest — they're comforting in their total silliness.
Making | I may have over-committed to crochet Christmas presents this year, but I suppose my family will be forgiving if they're not quite done on Christmas morning.
Cooking | We're not going to be cooking for a week thanks to leftovers. Yay!
Blogging | For the last week of Nonfiction November, I shared some thoughts on ghostwriting and I Am Malala. Doing the readalong for week four was a new strategy for Nonfiction November — I'm curious what participants thought about that?
Promoting | A few of my favorite bloggers are hosting A Month of Faves in December, basically a series of blog prompts for the moth focusing on the best of the year. It looks like fun, and I'm thinking about participating.
Hating | For the next six weeks, I am going to be hating the fact that the town where I live is so far from the Twin Cities. It's about a three hour drive, give or take, which isn't bad… just tedious.
Loving | I took the day off work tomorrow! The plan is to tidy the house, put up Christmas decorations, and get ahead on blogging for the month. Sounds divine.
Avoiding | I should get up off the couch and help my mom clean up from Thanksgiving yesterday… but ugh, dishes.
Anticipating | Despite my grumbling, the next six weeks or so are some of my favorite of the year. I see a my family and friends more than ever, get to eat tons of great food, and have a lot of quiet time in the car just to think. As long as the weather holds off, it can be pretty great.
Happy Sunday, everyone! What are you reading today?