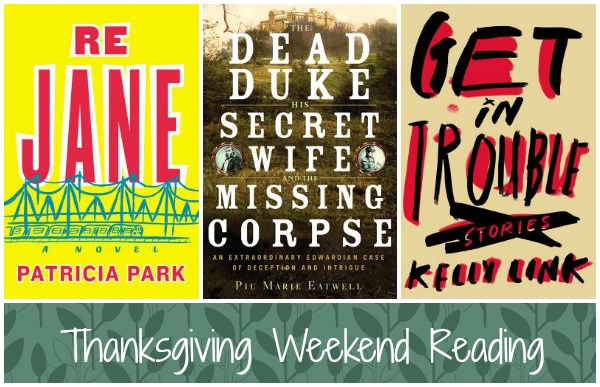 Hooray, day off from work in the middle of the week!
Thanksgiving has turned into kind of a hit-or-miss holiday for me. I don't get the day after Thanksgiving off as an official work holiday, and since we are a Saturday newspaper work needs to get done Friday so the paper gets printed and delivered on time.
This year I decided not to take Friday off, so it'll be a bit of a split Thanksgiving celebration. We're going over to a friend's house for dinner today, then heading to the Twin Cities on Friday night to do Thanksgiving II with my family on Saturday. Then, a dear friend is getting ordained on Sunday afternoon, so we're sticking around for that before heading back home. It should be a full, festive weekend… once I get done working!
But, I'm not thinking about that now. Today is a vacation meant for reading, food, friends and football. We're not heading out for Thanksgiving dinner until about 3 p.m., so I've got all morning for books (and a short list of chores I'm hoping to get done before we're out of town for the weekend). Here's what's on my list for the weekend:
Re Jane by Patricia Park –– I've been in the middle of this book forever. I'm not sure what's taking so long, but I am determined to finish it today. I'm enjoying it a lot so far, so I doubt that will be a chore.
The Dead Duke, His Secret Wife and the Missing Corpse by Piu Marie Eatwell — I swear, I'm going to stop buying new books soon. I ordered this one a few days ago and I'm kind of excited to hop in — that title is impossible to resist.
Get In Trouble by Kelly Link — The boyfriend and I needed some short stories on audio book for our drive, and this one came recommended when I asked for collections that were weird or a little dark.
Happy Thanksgiving, friends and readers. I hope you all have a wonderful day.