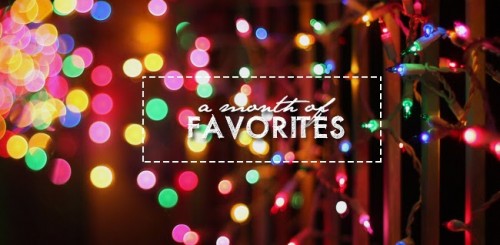 Today's topic for A Month of Faves — winter survival recommendations — is something near and dear to my heart. I grew up in Minnesota, so I've had 29 years of experience managing whatever winter can throw at you… and believe me, winter in Minnesota is no joke. Here are my top recommendations: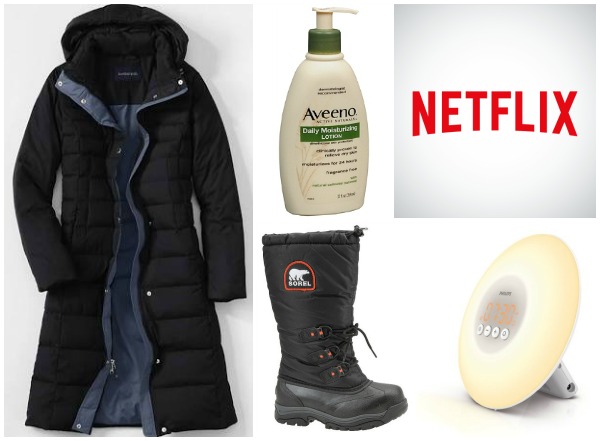 A giant winter coat and serious boots – It took me awhile to get over myself and admit that the best way to make it through a long winter is to have the right outdoor gear (no matter how totally stupid it looks). I have a long coat similar to this one and these enormous winter boots. I can't say they make -45 degree windchills enjoyable, but they do make it possible to endure (and yes, that's a thing I have actually experienced). Also invest in a good pair of slippers. I have a pair that look like little boots and I love them.
Wake-up light – I bought this Philips Wake-Up Light last December and it really has made a huge difference in my ability to wake up in the morning, especially in the winter when it stays dark so long. It's not any easier to get out of bed, but I do find my alarm less jarring because the gradual light makes it feel more like the sunrise.
Binge-worthy television – I watch a lot of television, but I seem to watch even more in the winter. I love having a long series to dive into, especially during this holiday period when there's no new tv to watch. Some of my favorite bingeable shows are:
Miss Fisher's Murder Mysteries

(feminist, Australian lady detective in the 1920s)

The West Wing

(inside the White House with the world's greatest president, Jeb Bartlet)

Fringe

(bonkers sci-fi that's compulsively watchable)

The Good Wife

(lawyers wearing fancy clothes and having affairs)

Parks and Recreation

(relentlessly optimistic small town government – the first six episodes are rough, but give it a chance)

Friday Night Lights

(high school football, the best marriage on television)

White Collar

(sexy criminals partnering with the FBI)

Nikita

(a sexy assassin tries to take down secret organization who trained her)

The Bletchley Circle

(former lady codebreakers solve crimes!)
Moisturizing everything – Good lotion is a must. I have Aveeno Daily Moisturizing Lotion in almost every room of my house, and never leave home with it out a smaller container in my purse. But I am still on the lookout for a good, antibacterial moisturizing body wash – I haven't been able to find one I like yet. Recommendations?  
Quiet time – I got thinking about the importance of quiet time this week, since I'm in the middle of a very hectic three week stretch. Between work, volunteer commitments, and planned social events, I don't think I'll have spent a full day home for a stretch of 22 days (aside from a vacation day last Monday).
That kind of frenetic schedule – which I know is common for a lot of people around the holidays – can be especially draining when you're an introvert like I am. I combat the fatigue by building in rejuvenating alone time – coming home to eat lunch by myself, prioritizing small group hangouts over large social events, and articulating when I need time to myself to the people I care about.
So there you have it, five things/techniques I use to make it through the winter. What are some of your top winter survival recommendations?
A Month of Faves is a blogging event hosted by Tanya Patrice (Girlxoxo.com), Traveling with T, and Andi (Estella's Revenge). You can find more on Twitter at #AMonthofFaves.