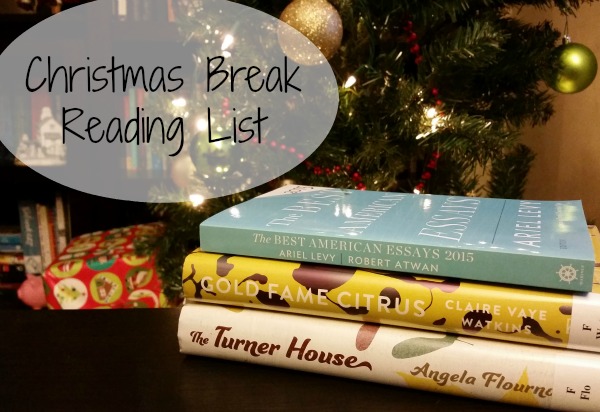 It's almost Christmas! I have to work about a half day today, then the boyfriend and I are off to the Twin Cities for a long weekend with both of our families. Since he's an only child, his parents graciously agreed to come spend Christmas with my family again so we can all be together. Having a big extended Christmas last year was a lot of fun, and I'm so looking forward to it again.
I am not sure that I will have much time to read, so I tried really, really hard to be judicious in the number of books I stuffed in my bag for the weekend. I think I've narrowed it down to just three:
Gold Fame Citrus

by Claire Vaye Watkins – A love story set in a dystopian near future, all about the lengths we go for family. This has been on my list all year.

The Turner House

by Angela Flournoy – What could be better than reading a family coming together in their family home while at home with my family?

Best American Essays 2015

edited by Ariel Levy – I think an essay collection might be just the ticket for dipping in and out of during a family gathering. I may end up swapping this out for

Best American Science and Nature Writing 2015

because the guest editor of that book, Rebecca Skloot, is one of my favorite science writers and I'm curious what she picked.
Except I also got a notification from the library that 2 A.M. at the Cat's Pajamas by Marie-Helene Bertino arrived from the library and now I want to read that too. So maybe some changes before we're out of here this afternoon… it's tough being a book nerd!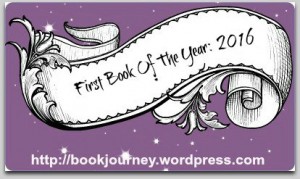 Anyway, I'm also trying to decide what I should read as my first book of 2016 so I can participate in the first book event being hosted by Sheila at Book Journey. I love the idea of making the first book of the year a special one, and since I have New Year's Day off from work (yay!) I can probably get a good start on that special book.
Ideally, I'd love my first book to be a book I already own (#ReadMyOwnDamnBooks), and a book with some connection to my One Little Word for 2016. I slacked off on OLW this year, but I'm excited to try again. I'm still trying to settle on the right word, but I think it will have something to do with being brave and taking chances. I want to start the year with a book that can help inspire boldness and confidence. With that in mind, a few I'm considering are:
Presence: Bringing Your Boldest Self to Your Biggest Challenges

by Amy Cuddy – Nonfiction on confidence and body language, recommended for fans of Brené Brown

Saint Mazie

by Jamie Attenberg – Historical fiction about a Jazz Age movie theater owner that I've heard nothing but good things about.

The Happiness of Pursuit

by Chris Guillebeau – Nonfiction, subtitled "Finding a Quest that Will Bring Purpose to Your Life."

Notorious RGB

by Irin Carmon and Shana Knizhnik – Coffee table biography of Justice Ruth Bader Ginsberg… also fun!
We'll see though, there are a lot of days between now and the new year for me to change my mind!
I'm not sure what the next week will bring for the blog, but I'm not sure anyone will be reading anyway. Happy holidays, dear readers, and thanks for being here!