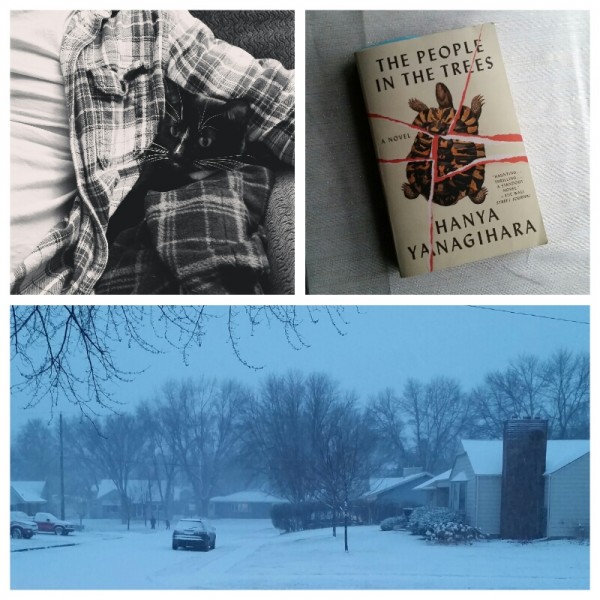 Time and Place | About 9 a.m., on my sister's couch in the Twin Cities.
Eating and Drinking | I went out to dinner to a new-to-me restaurant, Fireside Foundry, last night. They had the most amazing onion rings — I wish I'd taken a picture, they were so impressive.
Reading | Since my last post, reading has been pretty slow. I'm almost done with The People in the Trees by Hanya Yanagihara, a book that's been taunting me, partially finished, for most of the year. It's really excellent though, and I'm especially loving the layering of unreliable narrators on a story full of questionable people.
Listening | On the plus side, I've rediscovered my love for audio books. I've been flying through Marisa Meyer's Lunar Chronicles books — Cinder, Scarlet, Cress and Winter — a series of reimagined fairy-tales set on a future earth. They're totally engrossing, and perfectly in my audio book wheelhouse. I also love that there isn't a single love triangle, just four charming, realistically conflict-full relationships that are blooming as book four begins.
Making | I am seeing the light at the end of a Christmas present crochet marathon, which is stellar. Maybe once I'm done I can work on a project for me!
Cooking | I hope I get home early enough this afternoon to roast a chicken for dinner. I'm optimistic about that one.
Blogging | I'm trying to decide when to run my Best Fiction of 2015 and Best Nonfiction of 2015 posts. I'm thinking one this week and one next week, but we'll see how motivated I am when I get home this afternoon.
Hating/Loving | We had our first snowstorm of the year shortly after Thanksgiving, but it's been very, very mild ever since. Rain in December is just the weirdest thing.
Wanting | Oh gosh, I can't even tell you how excited I am for next weekend, when I don't actually have to leave home at all for any reason. Three weekends traveling really, really throws me off.
Waiting | My sister is still asleep, and we have some Christmas projects to work on this morning!
Anticipating | Christmas is in less than two weeks! How on earth did that happen? Like, seriously. How did that happen? I have almost all my Christmas presents purchased, just need to get them wrapped and make sure I didn't miss anyone. It's going to be fun.
Happy Sunday, everyone! What are you reading today?