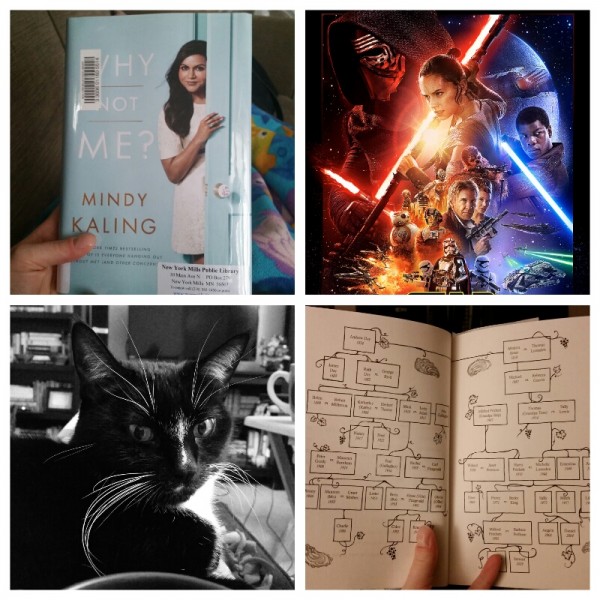 Time and Place | Around 8:30 a.m., at home, on my own couch! As I have mentioned (too often, I'm sure), I've been away from home for the last three weekends. That's just too much for me, and I seem to have paid the price this week — daily fatigue headaches, insomnia, and general exhaustion. A weekend catching up on projects at home is exactly what I needed.
Reading | It's been a good week of reading! I finished The Shore by Sara Taylor, a collection of connected short stories that take place on a group of remote islands off the coast of Virginia. The stories span hundreds of years, all connecting back to a single family with deep connections to the island (with an elaborate family tree to keep it all straight). I thought the book was beautiful — it's the kind of collection that will reward a rereading in the future. I just started Mindy Kaling's new book, Why Not Me?, which I'm confident will be a delight.
Listening | I just finished Winter, the final book in Marissa Meyer's Lunar Chronicles quartet. I loved this series so much, especially the fact that it avoided nearly all of my least favorite tropes of young adult dystopian fantasy.
Watching | We went to see Star Wars last night! It was so fun, highly recommended.
Making | I have one small Christmas crochet project to finish, and then I am going to work on something for me — probably this poncho/wrap from Two of Wands on Etsy. I've got some gorgeous teal tweed yarn I want to do something with.
Cooking | Despite the fact that there's snow on the ground, we grilled last night! We have another generous shipment of Omaha Steaks from the boyfriend's mother, and probably need to find better ways to cook them now that winter has arrived.
Blogging | Last week I posted my favorite fiction of 2015, followed by some mini-reviews of a few books I hadn't written about here on the blog yet. This week I'm hoping to post my favorite nonfiction of the year and share some of my reading plans for Christmas and the beginning of 2016.
Promoting | Shannon (River City Reading) posted some of the best long-form journalism she read online this year, which has some stellar pieces in it.
Hating | Headaches! It's been a bad week on that front.
Loving | I splurged on a Hydro Flask water bottle, and it is amazing! I am very tempted to get one for tea as well, since it's also supposed to be great for keeping drinks warm.
Anticipating | Christmas! We're leaving sometime Christmas Eve to head to my parent's house and will be there for the long weekend. The boyfriend's parents are coming in from Milwaukee, so we'll have another big, extended family celebration. I'm really excited.
Happy Sunday, everyone! What are you reading today?