Putting together my favorites of the year posts always makes me feel so grateful to be a reader. Even in years, like 2015, when it felt like my mojo was a little off, I still managed to put a ton of great books into my brain. Today, I've got fiction. Next Tuesday, I'll do a separate post with nonfiction favorites.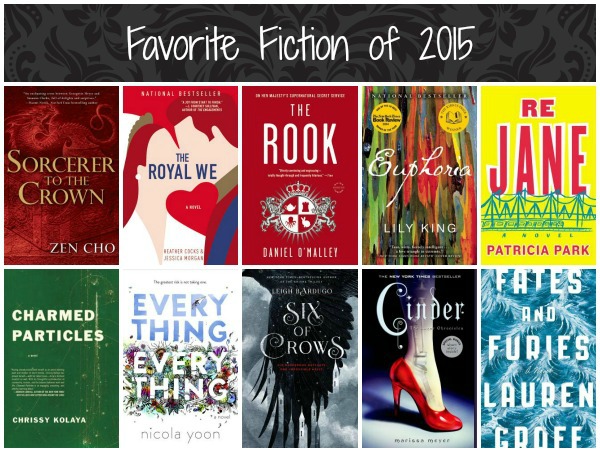 A couple of things things about this list. First, it doesn't include just books published in 2015, it's pulled from all the books I read this year (although it looks like seven of the 10 were front list books). Second, I don't think these books are necessarily the best books of the year, they're just the books that I loved most. And third, they're listed in no particular order — I loved each of them nearly equally as much. With all those caveats off the table, on to the list!
Euphoria by Lily King – If I had to choose, Euphoria might be my top pick. I flew through this beautiful little book, about a trio of young anthropologists based loosely on the life of Margaret Mead. It's so good.
Everything Everything by Nicola Yoon – A girl who has spent her life locked away, protected from the outside world because of life-threatening allergies, falls for the new boy across the street. This book was just a treat… all the feels.
The Royal We by Heather Cocks and Jessica Morgan – This is another charming book that snuck up on me, a fictionalized account of William and Kate's courtship that was surprisingly smart and funny.
The Rook by Daniel O'Malley – Ghostbusters meets James Bond, if James Bond were a lady spy who is also a kickass administrative genius. This was the most weirdly delightful book I read all year.
Fates and Furies by Lauren Groff – I still can't get over what beautiful sentences Lauren Groff writes. Couple that with a story about love, ambition, and the secrets we keep and you've got a winner.
Charmed Particles by Chrissy Kolaya – Full disclosure, Chrissy is a friend of mine. But that didn't change the fact that this book is excellent and you all should read it. 
Six of Crows by Leigh Bardugo – I am going to read everything that Leigh Bardugo writes. This is a classic heist story, but with the added bonus of being set in the same imaginative, addicting world as a previous series I adored, the Grisha Trilogy.
Sorcerer to the Crown by Zen Cho – This is the book I'm saddest I never wrote about because it's so fun. It's got magic and feminism and stuffy British dudes and a lovely, stilted British romance. And just so funny. I hope there's more to come with these characters.
Re Jane by Patricia Park – This is a retelling a Jane Eyre starring a half Korean, half American orphan living in Queens. Park plays wonderfully with the plot of Jane Eyre, but also makes the story new with a new setting and characters. 
The Lunar Chronicles by Marisa Meyer – Technically, I'm not totally finished with all four books in this series – Cinder, Cress, Scarlet, and Winter – but I'm confident this will be a favorite of the year. It's hitting all of my audiobook weaknesses, without falling into the traps that doom a lot of dystopian YA. And, bonus, the series is finished so you can binge all of it ASAP.
The People in the Trees by Hanya Yanagihara – Unsettling, beautiful, strange, layered, and so entertaining… this book was so, so good.
And finally, a few books that would have made the list if it were longer than 10 books long:
Honorable Mentions: Sweetland by Michael Crummey, Almost Famous Women by Megan Mayhew Bergman, Dumplin' by Julie Murphy, An Ember in the Ashes by Sabaa Tahir, The Walls Around Us by Nova Ren Suma, The Lost Boys Symphony by Mark Andrew Ferguson.