Over the seven years that I've been a blogger, I've averaged about 60 percent nonfiction and 40 percent fiction. These percentages have been remarkably consistent, and without much effort on my part. But this year was a big departure from that trend – at last count, I was at less than 40 percent nonfiction for the year. I'm not sure what to attribute that shift to, but I do know I hope to get back closer to 50/50 for 2016.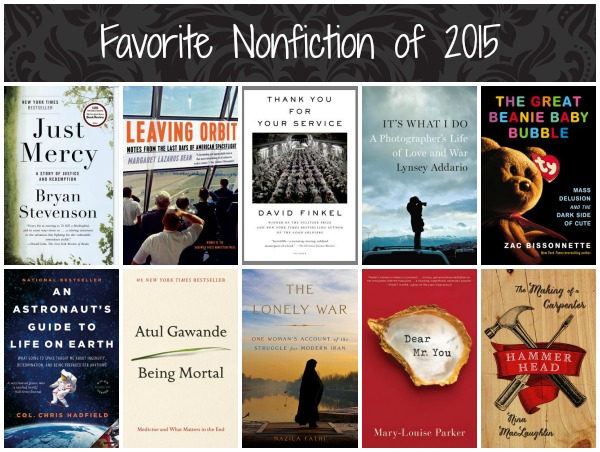 That doesn't mean I didn't read some great nonfiction this year. Looking back, I'm happy with the titles I picked up and the ones that made my favorites of the year. The same caveats mentioned in my favorite fiction post apply here: first, it doesn't include just books published in 2015, it's pulled from all the books I read this year. Second, I don't think these books are necessarily the best books of the year, they're just the books that I loved most. And third, they're listed in no particular order — I loved each of them nearly equally as much. With that, the list!
The Lonely War by Nazila Fathi – This excellent book is a balanced, nuanced account of life in modern day Iran told by a journalist who experienced intimidation and threats from the Iranian government.
Hammer Head by Nina MacLaughlin – If you like to think about work, or often imagine getting out of your head and finding a way to work with your hands, make sure you pick up this memoir.
Being Mortal Atul Gawande – This is probably the most important book I read this year, all about modern aging and how we can better handle the needs of our aging friends and relatives. Honestly, everyone should read this book.
The Great Beanie Baby Bubble by Zac Bissonnette – This was, hands down, the most fun work of nonfiction I read this year. If you were bit by the Beanie Baby bug, this is a must read.
An Astronaut's Guide to Life On Earth by Col. Chris Hadfield – This memoir, about what it takes to become an astronaut, and what being an astronaut can teach us about hard work and teamwork, was a surprising delight.
It's What I Do by Lynsey Addario – This was the best memoir about work-life balance and being a working mother that I've ever read, mostly because that wasn't the point of the book. Addario is a war photographer and this book is the story of her career and life path. It was so, so interesting.
Leaving Orbit by Margaret Lazarus Dean – What does it mean that the United States has ended the shuttle program? Dean, a passionate space nerd, offers a history of the shuttle program and a fan's love letter to space exploration. It was a lot of fun.
Thank You For Your Service by David Finkel – Finkel's true stories about the cost of war, on soldiers and their families, was heartbreaking but wonderful.
Just Mercy by Bryan Stevenson – Actually, Just Mercy is the most important book I read this year (sorry, Being Mortal). Stevenson is a lawyer who works to overturn death penalty cases in the south. This book is a frightening indictment on the flaws of our criminal justice system.
Dear Mr. You by Mary Louise Parker – I thought this memoir in letters was beautifully written, but it's not for everyone.
And finally, a few books that would have made the list if it were longer than 10 books:
Honorable Mentions: The Residence by Kate Anderson Brower, Blackout by Sarah Hepola, The Romanov Sisters by Helen Rappaport