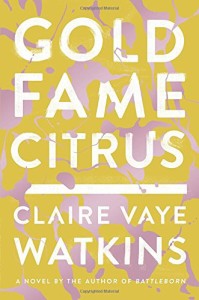 My final book of 2015 was Gold Fame Citrus by Claire Vaye Watkins. It was a book I really enjoyed, but also a book I didn't feel like I really "got" until I closed the last page and started looking for some analysis online.
Be warned, this whole post is pretty full of spoilers for the book.
It's not that the book is complicated. The plot actually follows pretty well-worn territory. Ray and Luz are living as squatters in a former starlets house in Los Angeles. The city has largely been abandoned – except for the destitute and those who choose not to leave – thanks to the approach of an expanding desert, the Amargosa Dune Sea. Their inert existence gets shaken up when they steal neglected two-year-old from a group of druggies. Of course they have no idea what to do – Ig's first diapers are a maxipad held on with a Hermes scarf – but decide they need to make a life change anyway. The three of them set out into the desert, hoping to get to the East Coast where life is supposed to be better.
Instead, they run out of gas somewhere out in the barren wasteland. Ray sets out, ostensibly to look for help, leaving Luz and Ig behind. They're miraculously rescued by a group of nomads living on the Amargosa Dune Sea as it slowly rolls it way toward the California coast. But of course not is all it appears – the nomads have formed a sort of environmental cult leader who seduces Luz and wants to use Ig in service of a plan that clearly will not work. Chaos ensues.
EVEN MORE SPOILERS are coming!
Turns out, Ray is not dead. After spending some time in a prison/compound, he finds his way to the encampment and tries to get Luz and Ig back. The plan goes awry when it becomes even more clear that Ray and Luz are entirely unprepared to be caretakers for a baby. Members of the group – several who are clearly better people and better parents despite the cult behavior – take Ig and force Ray and Luz to leave the colony. There's no redemption in this story… people are who they are and can't be changed by even the most disruptive and extreme experiences.
I didn't get to that conclusion about redemption when I first closed the pages. I had one of those "Huh?" moments… I think I liked this, but I don't really get what happened? I turned, as I usually do, to Google, and came across this review from the New York Times by Emily St. John Mandel (such a good choice for a reviewer, given her stellar post-apocalyptic novel Station Eleven). She also articulated what I struggled with in the book, much better than I even can now:
The work suffers occasionally from a condition fairly common to apocalyptic novels, which might be described as the "now what?" problem. That is, it's relatively easy to end the world in fiction, to shock and awe with the final disaster and establish the rules and parameters of the radically altered post-­apocalypse, but well, then what? The plot that Watkins comes up with — a love triangle, a seemingly idyllic community with a creepy secret — does not always match the originality of her prose.

But if this book is sometimes frustrating, it's also fascinating. A great pleasure of the book is Watkins's fearlessness, particularly in giving her characters free rein to be themselves. People who were shiftless and irresponsible before the disaster are shiftless and irresponsible afterward. This particular apocalypse is not an opportunity for redemption, and no one is ennobled by it.
Gah, that's just so smart! Gold Fame Citrus isn't a stellar book, but it is one of those books made more interesting when you have a chance to dig into it with other people.
One of the reasons I started blogging after college is I wanted to make sure I had an outlet to talk about books with other readers. But I've found that writing reviews of books isn't necessarily the same as digging into them, as reading them closely to try and understand what a talented author is trying to do when they try something different or novel in a story. I miss those specific types of group conversation around books, and reading Gold Fame Citrus made me feel like those specific and analytical parts of my reading brain were starting to atrophy just a little bit.
But I can't really think of a way to replicate classroom discussions online – reviews don't really cut it, and a live chat or discussion group still misses that sense of people in a room. An in real life book club has potential, but it can be so, so hard to get the right group of personalities together for a good discussion (and to make sure everyone actually finished the reading – I'm as guilty of this as anyone!).
I'm not quite sure what the concluding thoughts on this post are, other than I liked Gold Fame Citrus – even if it wasn't a totally successful novel – and I wish I had a way to parse through those strange moments so I understood it, and all the other lovely and complex literary novels I love, just a little bit better.
I'm curious what you think – what do you think are the pros and cons of online book discussions? Do you have an "in real life" friend or group where you discuss books regularly? What makes a successful book discussion in the digital age?
Some of the links in this post are affiliate links through Amazon. If you make a purchase through any of those links, I will receive a small commission.