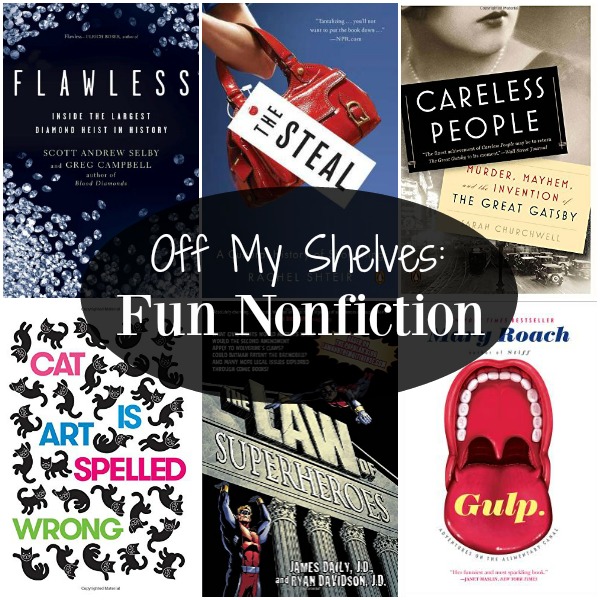 As I mentioned in my post on Sunday, I've struggling to find reading to fit my mood. As I thought about it a bit this week, I realized that my reading, especially in nonfiction, has been pretty serious lately… and, thanks to Alexander Hamilton, pretty dense.
So I took to my bookshelves (#ReadMyOwnDamnBooks) to find a few that seem to fit the general theme of Fun and Easy Nonfiction For My Tired Brain. Here's what I found:
Flawless: Inside the Largest Diamond Heist in History by Scott Andrew Selby and Greg Campbell – Who doesn't love a good heist narrative?
The Steal: A Cultural History of Shoplifting by Rachel Shteir – Cultural history many not seem like the most fun topic in the world, but I think it's fascinating. Crime in general, especially crime that's high-drama but low-stakes, always interests me.
Careless People: Murder, Mayhem, and the Invention of The Great Gatsby by Sarah Churchman – I really have a dark sense of fun… but seriously, murder and mayhem! SO FUN (in books and in history, not in real life).
Cat Is Art Spelled Wrong, edited by Caroline Casey, Chris Fischbach and Sara Schultz – A collection of essays on our fascination with cat videos as well as what makes art and how we talk about taste. I'm up on the fence about whether this is going to be too dense to be fun… but gotta love that cover.
The Law of Superheroes by James Daily and Ryan Davidson – A look at how our legal system would work in the world of comic books.
Gulp: Adventures on the Alimentary Canal by Mary Roach — Mary Roach is one of my go to authors when I want nonfiction that's smart, funny and fun. This book is all about the digestive system… eew?
A couple of other recommendations in my previously read books include Stiff by Mary Roach (what happens to bodies donated to medical science) and The Great Beanie Baby Bubble by Zac Bissonnette. Both of those were quite a lot of fun to read (but in the case of Mary Roach, only if you have a strong stomach).  
And with that, I would love to hear some of your recommendations. What are some of your favorite fun nonfiction reads?
Some of the links in this post are affiliate links through Amazon. If you make a purchase through any of those links, I will receive a small commission.