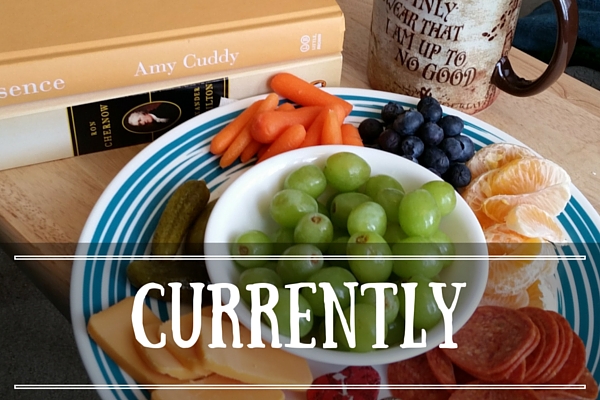 Time and Place | Around 8:30 a.m., on my couch. I'm not really feeling the computer this morning, so I think this will be a quick post.
Reading | Since last Sunday, I finished Read Bottom Up by Neel Shah and Skye Chatham (a modern love story told through e-mails and text messages) and Presence by Amy Cuddy (nonfiction about the connection between body language and our emotions). I'm still (slowly) making my way through Alexander Hamilton by Ron Chernow — just two weeks behind on the #HamAlong!
Watching | Last night the boyfriend and I watched Wild, the movie based on Cheryl Strayed's memoir of walking 1,100 miles along the Pacific Coast Trail. I really liked it, and the boyfriend did too (unexpected!).
Cooking | Last week's experiment with Crock Pot White Chicken Chili wasn't my favorite — the flavors were great, but I like my soups heartier than that recipe. The quest goes on.
Blogging | This week I shared some thoughts on Gold Fame Citrus by Claire Vaye Watkins and pondered what to do when your reading goals conflict.
Loving | We went to a new-to-us restaurant for dinner last night and I had an awesome bacon cheeseburger. I haven't had one of those in awhile… so good.
Wanting | I really want a book that's going to grab me. I'm not in a reading slump — I've finished six books already this month — but the books I've been picking up haven't wowed me. The problem is I can't quite pin down what I'm in the mood to read.
Anticipating | We don't have anything planned today, so I'm excited to have a full day to re-energize before the work week sets in again.
Sympathies to those of you on the East Coast in the middle of that epic snowstorm — drive slowly and stay safe! To everyone, happy Sunday! What are you reading today?
Some of the links in this post are affiliate links through Amazon. If you make a purchase through any of those links, I will receive a small commission.