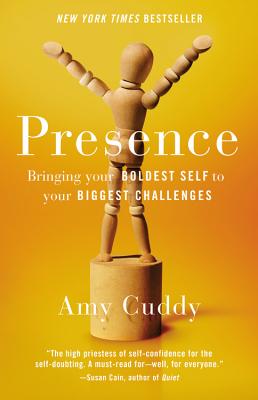 I've had "develop a yoga practice" and "practice meditation" on my resolutions lists for the last several years and never really made much progress with either. It's partially laziness and partially intimidation – both practices seem simple, but are actually much more difficult to master than they appear. But many of the books I've read on distraction and productivity suggest that mindfulness can be helpful in those areas.
Around the new year, as I was trying to settle on my word and plans for the year, a friend made a general recommendation of Presence: Bringing Your Boldest Self to Your Biggest Challenges by Amy Cuddy. She said it was perfect for fans of Brené Brown and people working to develop a yoga or meditation practice — it didn't take much convincing after that for me to pick it up.
Presence isn't specifically about yoga or meditation, but Cuddy does mention both of those practices in the context of how they help individuals develop mindfulness and confidence. The book is an engaging and optimistic look at the links between our mind and our bodies, and the ways we can use that connection to be more confident and centered during challenging moments.
First, I think it's important to share what Cuddy means when she talks about having presence – it's specific, but also not quite the definition you have in mind:
Presence, as I meant it throughout these pages, is the state of being attuned to and able to comfortably express our true thoughts, feelings, values, and potential. … Presence emerges when we feel personally powerful, which allows us to be acutely attuned to our most sincere selves. In this psychological state, we are able to maintain presence even in the very stressful situations that typically make us feel distracted and powerless. When we feel present, our speech, facial expressions, postures, and movements align. They synchronize and focus. And that internal convergence, that harmony, is palpable and resonant – because it's real. It's what makes us compelling. We are no longer fighting ourselves; we are being ourselves. Our search for presence isn't about finding charisma or extroversion or carefully managing the impression we're making on other people. It's about the honest, powerful connection that we create internally, with ourselves.
That sounds huge, but Cuddy is quick to point two important things: presence can (and often does) come moment-to-moment rather than being a constant state, and we can achieve moments presence like you can achieve many things, through small, consistent tweaks to our body language, behavior and mindset.
After setting that stage, Cuddy goes on to explore the different elements of presence, how to develop personal power, and how our body language shapes the way we think in many different ways. It's this last element of the book – "fake it until you become it" – that I think has resonated with many people, especially those who know Cuddy first through her 2012 TED Talk on how body language can help shape who you are.
Given the buzz around this book related to the TED Talk, I assumed it would be a lot more about the physical aspects of presence, like the benefit of power poses. But the book actually takes quite a long time to get there, focusing first on the importance of finding your authentic self, the damage caused by imposter syndrome, and developing personal power in order to have control over our own states and behaviors. I thought those discussions – particularly those on the importance of openness and kindness in developing personal presence – were really fascinating, and make the book worth reading even if you're familiar with the TED Talk.
I enjoyed this book immensely, and feel like it's one I want to buy multiple copies of to hand out to friends who are preparing for big and exciting challenges. Doing a power pose won't make imposter syndrome go away, but taking a few minutes to stand like Wonder Woman or take a few deep breaths may help you feel like you've put your best self forward in that moment, which is really all you can hope to achieve.
Some of the links in this post are affiliate links through Amazon. If you make a purchase through any of those links, I will receive a small commission.