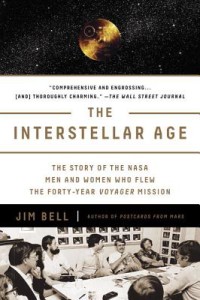 Last year, I started to get on a little bit of a kick for books about space and space travel. It started with Chris Hadfield's really wonderful memoir An Astronauts Guide to Life on Earth and continued with Leaving Orbit by Margaret Lazarus Dean. And then of course there was The Martian (audio book and movie), and following Commander Scott Kelly on Instagram during his year in space aboard the International Space Station.
All that to say I was pretty excited to get a review copy of The Interstellar Age: The Story of the NASA Men and Women Who Flew the Forty-Year Voyager Mission by Jim Bell, an account of the men and women who manned the two Voyager missions that launched from Earth in 1977. Over the last 40 years, the spacecraft have provided some of the most iconic photographs of our solar system, collected and transmitted data about little-known planets, and made the journey out of the Solar System and into interstellar space.
It's truly incredible to think that these machines have been operating successfully for that long, that we have the capability to transmit information from distance parts of the galaxy, and that these machines could be intercepted by other intelligent beings as they continue their journey into the unknown. Bell, a professor in the School of Earth and Space Exploration at Arizona State University and president of the Planetary Society, clearly approaches the subject with affection and enthusiasm, which I appreciated.
Unfortunately, The Interstellar Age was a little too heavy on the science for my taste, and didn't dig deep enough into the personal stories of the scientists who participated in the Voyager missions for me to fully get into the story. Bell did interviews with many of the scientists involved with Voyager over the years, but their stories did a lot of telling, not showing, and didn't give the necessary narrative flair to make up for the more difficult science passages. It's hard to get some of that drama as part of a retrospective, but I wish there was a little more push to get a sense of what it felt like to be in the room during the major parts of each mission.
Despite my interest in space, The Interstellar Age didn't quite find the balance between science and story that I look for in my nonfiction, but I know other readers with more patience for astrophysics will find a lot to enjoy in this book.
Some of the links in this post are affiliate links through Amazon. If you make a purchase through any of those links, I will receive a small commission.