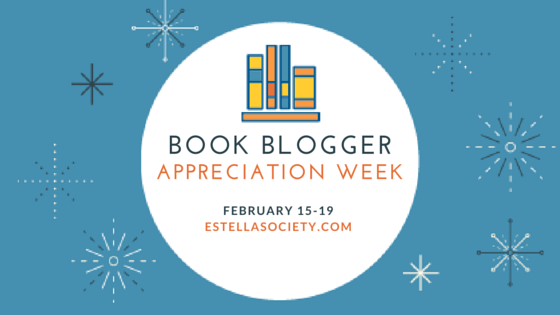 I've written a few times before about how it's hard for me to think about what my reading life would be like without book blogging. I started Sophisticated Dorkiness just a few days before I graduated from college, so all of my "adult" reading life has been influenced and affected by the other bloggers and readers I've met and built relationships online. That makes today's Book Blogger Appreciation Week topic really interesting to tackle:
Day 3: What have you read and loved because of a fellow blogger?
I'd venture to say that basically all of my contemporary fiction picks come from other bloggers or the good folks who contribute to Book Riot. Fun fact, Book Riot was actually started by a bunch of book bloggers, and I was lucky enough to be one of the original contributors. The community of contributors and readers on the site is really amazing, and I get a ton of good suggestions from them. Our managing editor, Amanda Nelson, recently did an interview talking a bit about how Book Riot got started, if you are curious about that.
Anyway, I wish that I were able to grab a book and say specifically who convinced me to read it, but most of the time it's more of a general buzz of excitement around a book that comes from the bloggers I read, folks I follow on Twitter, and the Book Riot crew. I think this list could be incredibly long – I read a lot based on what other people love – but I tried to keep it narrowed down. And in the case where I can remember specifically where I heard about a book from, I've left a link. Otherwise, here are 10 books I loved based on blogger buzz:
The Turner House

by Angela Flournoy

Everything I Never Told You

by Celeste Ng

The Shore

by Sara Taylor (Andi at

Estella's Revenge

)

Re Jane

by Patricia Park

Sorcerer to the Crown

by Zen Cho

Blackout

by Sarah Hepola (Candace at

Beth Fish Reads

)

Fates and Furies

by Lauren Groff

Just Mercy

by Bryan Stevenson (Shannon at

River City Reading

)

Everything Everything

by Nicola Yoon (Kelly at

Stacked/Book Riot

)

Americanah

by Chimamanda Ngozi Adichie
I could go on and on and on with this list, but I'll cap it at 10 and throw the question back at folks who are more regular readers: Which books have you picked up because of a rave or review you read here at Sophisticated Dorkiness?
Book Blogger Appreciation Week is being hosted at The Estella Society by Ana (Things Mean A Lot), Jenny (Reading the End), Heather (Capricious Reader), and Andi (Estella's Revenge). Visit the website for more information about this awesome community event! 
Some of the links in this post are affiliate links through Amazon. If you make a purchase through any of those links, I will receive a small commission.