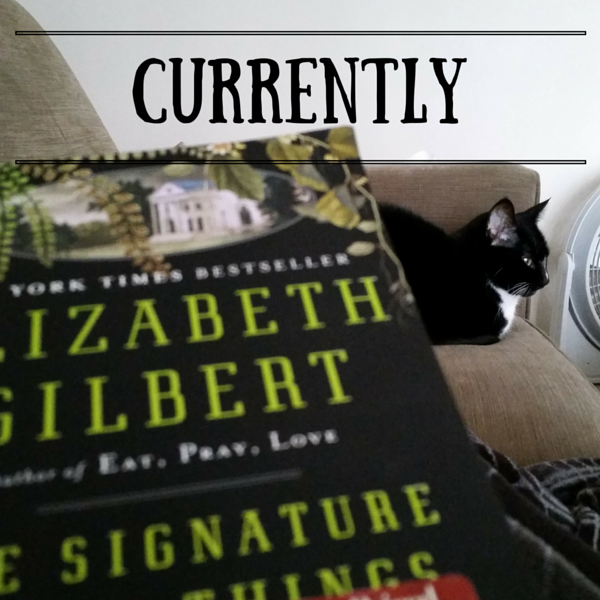 Briefly | This week was all about keeping my head above water. This weekend has been all about regrouping and resetting, hoping to get back into the groove I was so excited about early in 2016. The boyfriend was in Milwaukee all week, helping his mom and making funeral arrangements for his dad. My dad and I flew out Thursday morning for the funeral, then we drove back home on Friday.
Reading | It's one of the weird ironies in life that it's impossible to read during the stressful, emotional times when sinking into a good book would be the perfect remedy. I couldn't pick up a book, at all, during the time the boyfriend was gone. But I seemed to find my groove late in the week with a book my sister recommended, These Vicious Masks by Tarun Shanker and Kelly Zekas, a totally silly Victorian-era adventure/romance described as "Jane Austen meets X-Men." It was perfect airplane/road trip reading. This weekend I've been settling into The Signature of All Things by Elizabeth Gilbert, which is just so beautifully written and feels like exactly what I needed.
Watching | The boyfriend and I went to see Deadpool last night — very funny, super gross, and not appropriate for children. I liked it, but I'm hoping it doesn't lead to a bunch of new R-rated superhero movies like some people are suggesting… that'd be a real bummer.
Listening | On a friend's recommendation, I started Red Rising by Pierce Brown, on audio book. It fits right into my young adult dystopian wheelhouse, but it's more violent than I'm used to in that genre. Maybe a good comparison would be Harry Potter : The Hunger Games :: The Magicians : Red Rising.
Cooking | Yesterday I cooked up a batch of minestrone soup, which should be good for lunch throughout the week.
Blogging | I'm so bummed I didn't get to participate in the community aspect of Book Blogger Appreciation Week as much as I wanted to, although I did get up three posts during the week: Five Books that Represent Me, Favorite Books Recommended by Bloggers, and Six Ways to Avoid Blogger Burnout. I'm hoping to catch up on comments and visit some new blogs later this afternoon.
Promoting | Major kudos to the wonderful bloggers who brought back Book Blogger Appreciation Week: Ana (Things Mean A Lot), Jenny (Reading the End), Heather (Capricious Reader), and Andi (Estella's Revenge). I wasn't as engaged as I hoped to be, but it was so fun seeing the blogger love online and throughout the blogosphere.
Hating | I love my community, but this was one of the weeks when I hate where it's located because it's so far from our families.
Loving | Despite not being together on Valentine's Day, the boyfriend did surprise me with flowers when I got to Milwaukee on Thursday. It was really sweet.
Anticipating | I expect today is going to be a pretty quiet day. I have a ton of laundry to do and some other chores to catch up on, but otherwise I hope to spend most of the day getting back on track with the blog and settling in with a good book.
Happy Sunday, everyone! What are you reading today?
Some of the links in this post are affiliate links through Amazon. If you make a purchase through any of those links, I will receive a small commission.