I can point to two specific pieces of satire that inspired me pick up HRC: State Secrets and the Rebirth of Hillary Clinton by Jonathan Allen and Amir Parnes: SNL's cold open (above) from their Feb. 13 show and this article from The Onion, Female Presidential Candidate Who Was United States Senator, Secretary Of State Told To Be More Inspiring.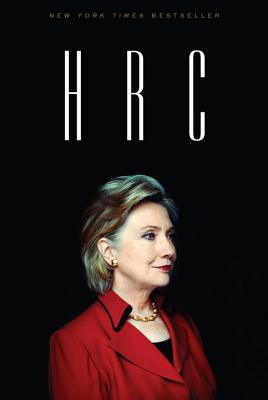 Both of these pretty much capture the conflicted feelings I have about Hillary Clinton and her campaign. On the one hand, she's clearly the most qualified candidate either party has offered, and I don't think there's any doubt that she would make an excellent, historic president.
But there's something about her or her candidacy that has failed to energize me and many other voters… despite the fact that Bernie Sanders running as an anti-establishment candidate after 25ish years in the Senate is silly, and the Republicans are (at the time I'm drafting this review) poised to endorse a candidate that represents the worst of their party. How can I feel this ambivalent about Hillary when the alternatives are so unlikely?
HRC looks at a very specific period of Clinton's political career, her defeat in the 2008 Democratic primary and her subsequent career as Secretary of State. The authors – political reporters from Politico and The Hill respectively – argue that her success as Secretary of State represents "one of the great political comebacks in history."
During that time, Clinton went from being hated by members of Obama's inner circle to being one of the president's most influential advisors. She cemented her reputation as a talented stateswoman, improved America's standing abroad, and left herself open to run again in 2016 (although the book, published in 2014, merely speculates on what that might be like).
The period covered in the book is nearly identical to the timeframe of another book on Clinton that I really enjoyed, The Secretary by Kim Ghattas, but takes a different frame, looking less at Clinton's specific priorities abroad and more at how her time at the State Department affected her political career and legacy. In that respect, HRC is a book I'd recommend to political junkies, while The Secretary has more broad appeal to readers interested in international issues.
So did this book change what I think of Hillary Clinton? Yes, a bit. Nearly everyone interviewed for the book – many speaking on anonymously, which I'd argue gives them a license to speak frankly – commended Clinton for her work ethic and command of the myriad of topics presented to her. She worked hard on issues with no obvious political benefit, and has a warmer and more caring personality than she's really allowed to display on the campaign trail. (Check out this Daily Beast piece by Obama speechwriter Jon Favreau for an idea of what I mean).
On the other hand, the book also offers some smart analysis of the Clinton's political network and the way both Bill and Hillary use political favors and intimidation to get what they want. It's really clear where that sense of sleaziness with them as a couple comes from, even though the authors don't push on that subject as much as they could have. Maybe all of that isn't much different from how other politicians operate, but it's still contributes to that sense of raw, crazed ambition that Kate McKinnon captures so well in her impersonation of Hillary.
Hillary Clinton, for better or for worse, is one of those public figures who will continue to court controversy as long and she continues to seek public office. For those looking to learn more about her, HRC offers a nuanced look at her philosophies on foreign policy, a strong sense of her personality and work ethic, and a sampling of the kind of political pressure she and her allies use. I'm glad it read it, even if I still don't know where I stand on her candidacy.
Some of the links in this post are affiliate links through Amazon. If you make a purchase through any of those links, I will receive a small commission.