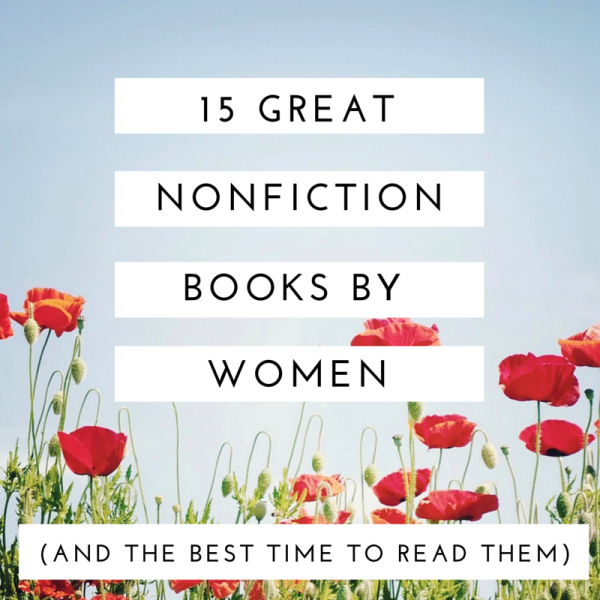 One of my favorite things about being a reader is finding the perfect book at the perfect time. Whether it's a book that scratches the right itch or a book that answers a question we didn't know we were asking, a book read in a particular moment can resonate throughout our lives.
I was inspired to write about this topic over at Book Riot after reading Mindy Kaling's most recent memoir, Why Not Me? I really enjoyed her first memoir, Is Everyone Hanging Out Without Me? And Other Concerns, when I read it back in 2012 because the lightness of it — and the age Kaling was when she started writing — felt like what I needed to read at that time. Why Not Me? has a similarly funny tone, but the advice she's passing on now (as a woman of 36) feels even more relevant to me now. Why Not Me? is particularly good when it comes to talking about work, especially being someone "in the trenches" still in a mode of striving for more.
I used this idea to pull together 15 of my favorite works of nonfiction by women, with suggestions on the best time to read them. I'm not going to give all my detailed reasons here, just the books, and suggest you head on over to the post a Book Riot if you want more details.
When You're Approaching College Graduation
When You're Struggling at Adulting
When You're Making A Big Career Leap
When You're Considering Your Future Family Plans
When You're in a Rut
When You're Thinking About Aging/Mortality
When You're Reading Through Grief
P.S. The framing of this list isn't to say that you can't read this books at different times – you do you, obviously! – but to recognize that life experiences affect how we read certain books and can affect the impact. Enjoy!
Some of the links in this post are affiliate links through Amazon. If you make a purchase through any of those links, I will receive a small commission.