You guys, March is so full of new and interesting books. Putting this post together certainly did not help my plan to #ReadMyOwnDamnBooks, but oh well. I mentioned a few of these in my February wrap up/March preview post, but didn't go into much detail, so they're coming around again. Here are some titles on my radar from this month: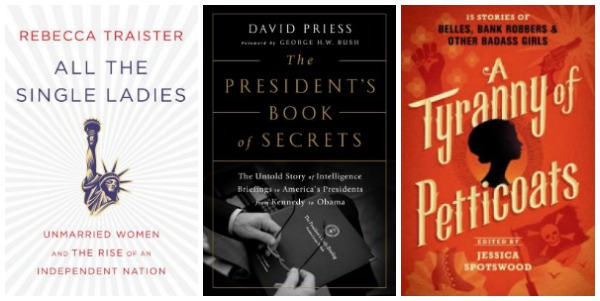 All the Single Ladies by Rebecca Traister (March 1 from Simon and Schuster) – Rebecca Traister is such a smart writer when it comes to women and politics (Big Girls Don't Cry from 2010 is excellent), so I'm certain that this look at the impact of single women on American society and politics will be awesome.
The President's Book of Secrets by David Priess (March 1 from PublicAffairs) – I love books that get inside the world of the President of the United States. In this book, Priess looks at the relationship between the president and the intelligence community by looking at the process for developing the "President's Daily Brief" and how modern presidents have used the document to make decisions.
A Tyranny of Petticoats edited by Jessica Spotswood (March 8 from Candlewick) – A bunch of YA writers got together to a collection of historical short stories featuring badass young ladies. Sold!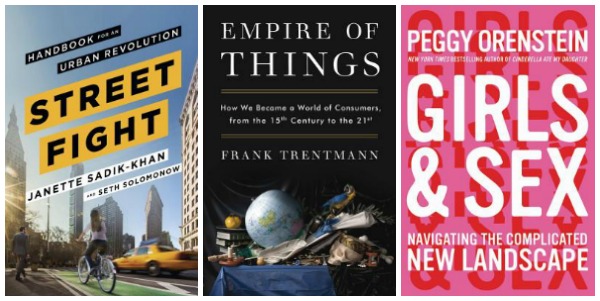 Streetfight: Handbook for an Urban Revolution by Janette Sadik-Khan and Seth Solomonow (March 8 from Viking) – I have no desire to live in a city, but I have a weird love for reading about urban planning. This book is "an empowering road map for rethinking, reinvigorating, and redesigning our cities, from a pioneer in the movement for safer, more livable streets."
Empire of Things by Frank Trentmann (March 29 from Harper) – This book is quite the chunkster (880 pages) looking at a big question: How have we come to live with so much stuff, and how has this changed the course of history? It sounds fascinating, but I'm not sure if I'll actually get to reading it this month.
Girls and Sex by Peggy Orenstein (March 29 from Harper) – Following up her excellent first book, Cinderella Ate My Daughter, Orenstein takes an in-depth look at the "new sexual landscape girls face in the post-princess stage – high school through college – and reveals how they are negotiating it." I've read a couple books on this topic, but none recently and none by authors who have the kind of clear-eyed approach that Orenstein takes in her writing. Excited about this!
Some of the links in this post are affiliate links through Amazon. If you make a purchase through any of those links, I will receive a small commission.