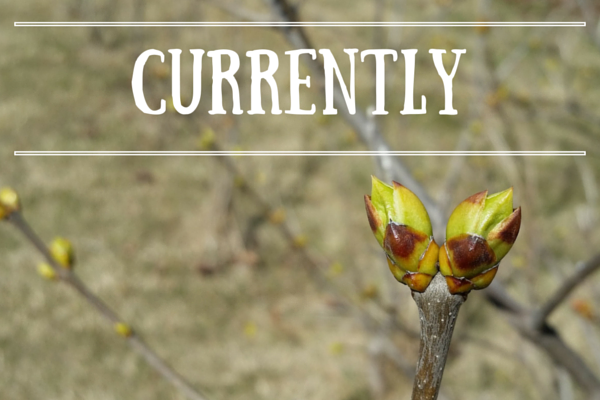 Briefly | It has been a rough week for this introvert! I ended up having to work part of the evening every day this week, which really drains my energy — by the time I got to Friday evening, I could hardly keep my eyes open. I made up for it by hunkering down at home this weekend and catching up on all those pesky projects that I neglected… but I still feel behind, especially on all things blog related. Thank goodness for Sundays.
Reading | I feel like I haven't been able to settle down and read for the last couple of weeks. I did finish two books since my last post, When Breath Becomes Air by Paul Kalanithi and The Secret Life of the American Musical by Jack Viertel — both nonfiction and both great in their own ways. I'm not sure what is going to catch my mood today… something cheerful, I hope.
Watching | The boyfriend and I watched Nebraska and The Big Short over the weekend. I liked them both quite a bit, although The Big Short is pretty darn depressing when you start to think about how little has been done to regulate the financial/banking industry since the financial collapse in 2008.
Making | I have a couple of baby projects I need to get started on — one for a friend who had her little guy in January, and another who is expecting this summer.
Blogging | This week I shared my Day in the Life post and 15 great nonfiction books by women. I'd like to get some actual reviews written for this week, but we'll see!
Hating | My cell phone started acting up this week — couldn't do updates, thought it had no space, randomly draining the battery — so I decided to do a hard reset and clear the whole thing. It's been kind of a pain trying to get all my settings back.
Loving | On the plus side, resetting the phone cleared all of the apps, meaning I can try to be intentional about what I put back on there. I decided not to install Facebook or Hootsuite (my preferred Twitter client), which has been amazing. I wish I'd gotten brave enough to just pull them off months ago.
Avoiding | After being gone last weekend and crazy busy this week, I'm woefully behind on responding to blog comments… that's my biggest source of blogger guilt, even though I try not to succumb to blogger guilt regularly.
Anticipating | Easter brunch! Because my parents are still wintering down in Arizona, we're not traveling for Easter this year. Instead, the boyfriend and I are heading to a local restaurant for their Easter brunch buffet late this morning — it's supposed to be really good. Fingers crossed!
Happy Sunday, everyone! What are you reading today?
Some of the links in this post are affiliate links through Amazon. If you make a purchase through any of those links, I will receive a (very, very) small commission.