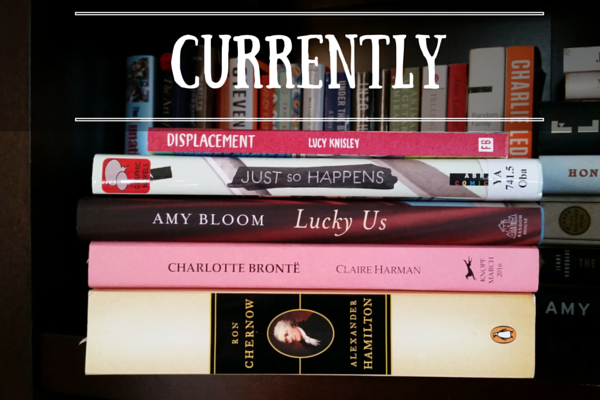 Briefly | February is over, hooray! My February funk is slowly starting to fade away, thank goodness, but I still haven't managed to feel like I'm back in the groove. I think the plan is just to continue taking things slowly and hope that the upswing continues.
Reading | Thanks to a busy week at work, my reading slowed down dramatically this week. I've made a little progress in Chernow's Alexander Hamilton (the boyfriend commented the time it's taking me with this book is the longest he's ever seen a book take — true!). Thanks to this hilarious post from Jenny (Reading the End) I decided to pick up Charlotte Brontë: A Fiery Heart by Claire Harman, which has been interesting but also a slow read (two biographies at the same time was… not my best choice). I'm thinking about switching it up today with some comics, either Lucy Knisley or one I grabbed from the library, Just So Happens by Fumio Obata.
Watching | The boyfriend and I are catching up with Silicon Valley on HBO, a show about a goofy tech startup in Silicon Valley. It's so, so funny, and has one of my favorite underrated actors, Zach Woods.
Listening | I'm like three hours from finally being done with Red Rising by Pierce Brown, but I'm not sure if I'm going to continue with the series. It's just so relentlessly awful, like The Hunger Games with none of the warm moments. I may try the second in the series, Golden Son, in print and see if I enjoy it better that way.
Blogging | Last week I shared my February reading wrap up and some thoughts on Hillary Clinton, inspired by the book HRC.
Promoting | I'm just going to keep throwing this out there: Are you a book blogger who will be attended Book Expo America 2016 in Chicago? Join the Facebook group we've started to help bloggers connect and ask questions before the conference.
Loving | I've been doing yoga more regularly — twice per week, sometimes more — and it's been so great. I leave each class feeling calm and relaxed, and it's really been helping some stiffness and soreness in my lower back.
Avoiding | I should buckle down and get a start on my taxes… but I'll probably wait a few more weeks on that one.
Wanting | I'd love to get outside for a walk today. We're supposed to be pushing 60 degrees, but I'm worried it's going to be too windy — out on the prairie, that can make it impossible to do anything.
Anticipating | The boyfriend and I are planning to grill steaks for dinner — so good — and then, I think, go see Hail, Caesar!, the new Coen Brothers movie. It should be a relaxing way to end the weekend.
Happy Sunday, everyone! What are you reading today?
Some of the links in this post are affiliate links through Amazon. If you make a purchase through any of those links, I will receive a small commission.