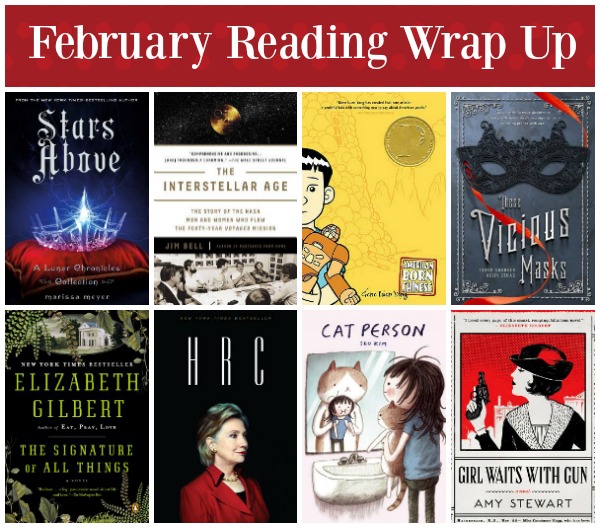 Goodbye February, and good riddance. It's just been a downer of a month that I am not sad to see gone by the wayside. The sad events were certainly punctuated by some fun moments – new car! Newsies! – but overall I just look back on it with a sigh.
My reading felt slow most of the month, until late last week when I suddenly turned into a reading fiend. I hope I can settle into a more manageable pace soon, but I'm trying not to worry about it too much because why bother? Here's what I finished in February:
Stars Above

by Marissa Mayer (short stories, YA fantasy)

The Interstellar Age

by Jim Bell (nonfiction)

American Born Chinese

by Gene Luen Yang (fiction, comics)

These Vicious Masks

by Taron Shanker and Kelly Zekas (fiction)

The Signature of All Things

by Elizabeth Gilbert (fiction)

HRC

by Jonathan Allen and Amie Parnes (nonfiction)

Cat Person

by Seo Kim (comics)

Girl Waits With Gun

by Amy Stewart (fiction)

Why Have Kids?

by Jessica Valenti (nonfiction, reread)
It's hard to pick a favorite because most of them seemed to be the exact book I wanted to read in the particular moment I picked them up. Both American Born Chinese and These Vicious Masks were perfect when I was sad and distracted, both funny and smart. The Signature of All Things was gorgeous (if just a little bit too long), and HRC scratched my itch for political comfort reading as the primary season has worn on. All in all, it's a good month to look back on, reading-wise, even if everything else felt like a garbage fire.
A Look to March
This month, I am committed to finishing Alexander Hamilton by Ron Chernow. I fell off the bandwagon for the #HamAlong, but I need to prove to myself that I can knock out an epic white dude biography if the occasion calls for it. I'm thinking that if I commit to one chapter each day, I can be done by the end of the month.
Other than that, I've got a few review copies on my desk that look like they could be fun: A Tyranny of Petticoats edited by Jessica Spotswood (YA short stories about awesome ladies), Charlotte Brontë: A Fiery Heart by Claire Harman (biography), Girls and Sex by Peggy Orenstein (nonfiction), and The Madwoman Upstairs by Catherine Lowell (fiction, about the only remaining descendant of the Brontë family).
Julianne (Outlandish Lit) is hosting the #Weirdathon in March, a "month-long reading challenge to expand your reading horizons and find the strangest books you can." That sounds super fun, so I'm going to try and participate. I'm not sure quite what I have on my shelf that I would consider weird, but I'm going to take a look.
Overall, I think it's going to be a pretty good month of reading. And fingers crossed life on the person front makes an improvement as well.
What books are you excited to read in March?
Some of the links in this post are affiliate links through Amazon. If you make a purchase through any of those links, I will receive a small commission.