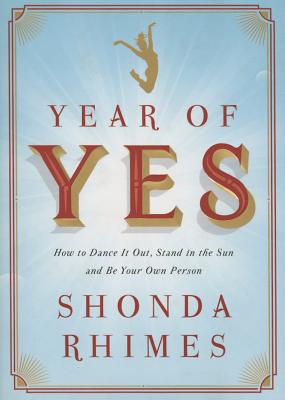 One of the ways that I try to remind myself of my One Little Word for 2016, open, is to think about one of the rules of improv I remember from Tina Fey's Bossypants – always respond to your partner with YES, AND… For Fey, the idea of YES, AND is to contribute, to show up and be part of the scene or experience in front of you. For me, it's been a gentle reminder that a spirit of openness requires approaching life with an attitude inclined towards looking for more, not less.
As I was putting together a casual reading list for the year, one of the books that immediately rose to the top was Year of Yes: How to Dance It Out, Stand in the Sun, and Be Your Own Person by Shonda Rhimes, a memoir about Rhimes experience saying "yes" to her life.
Rhimes, creator and showrunner for major hits like Grey's Anatomy and Scandal, embarked on her Year of Yes after her sister forced her to accept the fact that she never said yes to anything. As an introvert prone to panic attacks before publicity event, Rhimes realized she'd been letting fear – in the form of always saying "no" – dictate the terms of her life. The book is her chronicle of how a Year of Yes changed her life.
I listened to this as an audiobook, read by Rhimes, and have to admit that I wasn't initially enamored with the book. The first several chapters focus on Rhimes battle to deal with her social anxiety and introversion — the "say yes to everything" mantra had a lot to do with accepting invitations and going to social events, which, honestly, I didn't find that interesting. I wasn't really learning much about being open when all Rhimes talked about was how scared she was to be interviewed by Jimmy Kimmel.   
But somewhere in the middle Rhimes started to expand on what the year of yes meant to her – yes to play, yes to caring about her body, yes to difficult conversations, and yes to dancing it out with the best people in her life. As those topics came up, the book went from being an amusing memoir to this inspiring, soaring manifesto about female empowerment and making choices in your own life. The ending left me feeling excited and open and ready to take on the world.
Listening to the book on audio is really the way to go. Rhimes has a very distinctive cadence and rhythm to her television writing that translates beautifully to the memoir format. And the audio includes clips from several of the major speeches Rhimes gave during her Year of Yes that are fun to hear as given rather than read later.
Although a little slow to get going, I highly recommend this book for anyone feeling like their life needs a little bit of an shake up – even if saying yes isn't quite the kick you need, the book will inspire you to make your own courageous changes.
P.S. If you want a quick preview of the book, I highly recommend watching the TED Talk Rhimes gave in February 2016 (embedded below). It gives a sense of the cool place the memoir ends up, skipping over the stories of the first chapters that I didn't find as engaging.
Some of the links in this post are affiliate links through Amazon. If you make a purchase through any of those links, I will receive a small commission.