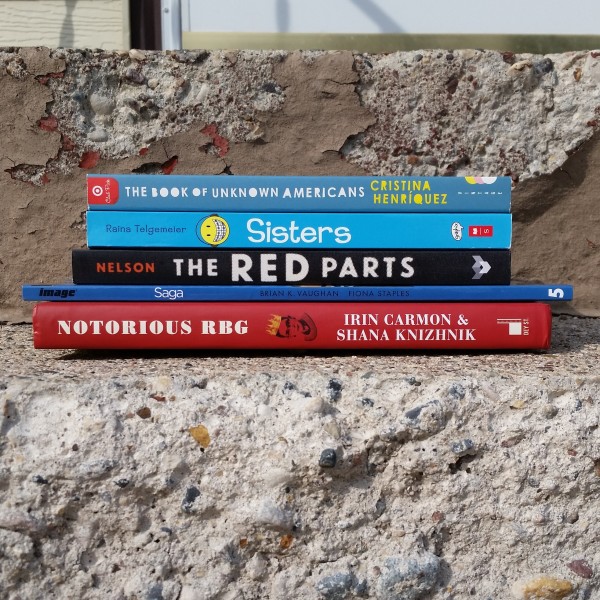 I'm happy to report that I woke up this morning before my alarm, not feeling the typical Readathon hangover I usually experience. Huzzah!
I woke up just in time to see the end of the #readathon! Final tally: Five books, 1023 pages, 10 hours 21 minutes reading/listening.

— Kim Ukura (@kimthedork) 24 April 2016
After some musing this morning, I think it's because I didn't push myself to keep reading when I was feeling tired out after a late dinner — I switch to an audio book and crocheting, and used that to power through to around midnight. I'll definitely have to keep that plan in mind for next year. (You can read the full recap of my day here.)
Other than Readathon recovery, I'm hoping today will be a pretty chill Sunday. I've got some vacation prep to do, since the boyfriend and I are leaving for Milwaukee (both)/Book Expo America (me) in less than two weeks. Eek! If I do spend some time reading, it'll be trying to finish The Expatriates by Janice Y.K. Lee (yes, I finally started it).
With that, here's my final Readathon wrap-up in the form of the end of event survey.
End of Event Survey
Which hour was most daunting for you?
I gave up and went to bed around midnight, I think that's Hour 17 or Hour 18. It wasn't really daunting, I was just sleepy after getting up before 7 a.m.
Could you list a few high-interest books that you think could keep a Reader engaged for next year? 
The Book of Unknown Americans by Christina Henríquez was a great pick — I didn't want to put it down.
Do you have any suggestions for how to improve the Readathon next season? What do you think worked really well in this year's Readathon?
I loved that cheering was all on Twitter. I didn't get as many blog comments as usual, but I had fun interacting with other participants on Twitter and Instagram a lot. I didn't really miss the blog comments, and I know that social media commenting is a lot easier for cheerleaders.
How many books did you read? What were the names of the books you read?
Five books finished — Sisters by Raina Telgemeier, Saga, Vol. 5 by Bryan K. Vaughn and Fiona Staples, The Book of Unknown Americans by Christina Henríquez, Notorious RBG by Irin Carmon and Shana Knizhnik, The Red Parts by Maggie Nelson. I also listened to a bit of The Caped Crusade by Glen Weldon.
Which book did you enjoy most?
I actually liked all of them. The Red Parts was a really good book to start with, and The Book of Unknown Americans was the perfect page-turner late into the afternoon when I was starting to get tired.
Which did you enjoy least?
Hmmmm… this volume of Saga wasn't my favorite of the series, but that's not saying much because Saga is so great. I'm still excited for the sixth trade coming out this summer.
How likely are you to participate in the Readathon again? What role would you be likely to take next time?
I'll definitely be back 🙂 I think the cheerleading change to Twitter only is really smart — I'm more likely to officially cheer again (I haven't signed up in awhile) because it seemed really easy.
Happy Sunday, everyone! What are you reading today?
Some of the links in this post are affiliate links through Amazon. If you make a purchase through any of those links, I will receive a small commission.