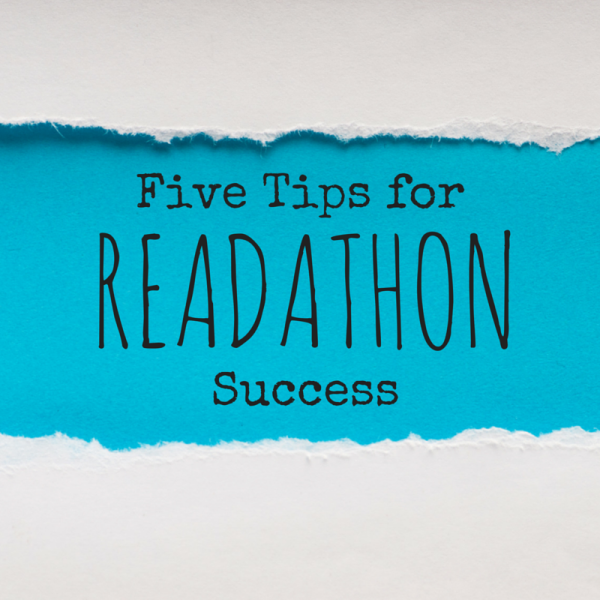 The spring edition of Dewey's 24 Hour Readathon is just around the corner on Saturday, April 23. The Readathon is truly one of my favorite reading/blogging events since my first one in spring 2009.
I feel like I'm even more psyched than normal for this year's Readathon. No joke, I've been scoping out books and thinking about snacks since the beginning of the month. In honor of all that excitement, here are some of my best practical tips and strategies for a successful Readathon.
1. Short books, big fonts.
Everyone has different strategies for picking books for their Readathon stack. In the past, I've focused on books that were already on my TBR pile in some way, without limiting too much based on length. This spring, I am really feeling quantity — I want to finish a bunch of books during the event. To increase my chances of finishing four books (my Readathon history suggests this is possible, but difficult), I've decided to focus my stack on books that are less than 300 pages long and don't have a tiny font. I'm hoping that this way I can feel like I'm moving through books briskly and keep my momentum going through the day.
2. Start small.
I find it really satisfying to finish a book within the first four hours of the Readathon. This means I need to start with a book that's less than 250 pages (or has a really big typeface). My current front-runner for first book is The Red Parts by Maggie Nelson — memoir/true crime, 224 pages, decent font size. Winner!
3. Mix genres and formats.
I love to have a mix of fiction and nonfiction in my stack, as well as a good variety of reading formats. This means also having comics, ebooks, and audio books at my disposal. Last spring I took a break in the late afternoon for a long walk outside listening to an book from Audible — it was great and gave me a ton of energy going into the evening.
4. Mostly healthy snacks.
It is super tempting to stock up on a ton of junky snacks to fuel your Readathon. In my experience, that's not a great idea. I always have gummi bears and crackers, but also need to make sure to have fruits and veggies, proteins, and lots of good things to drink so I don't crash after dinner.
5. Friday night clean up.
Taking some time on Friday night to get our house in order has become one of my best lifehacks. It's especially great before the Readathon so there aren't any piles of dishes or laundry or random papers sitting around being distracting while I'm trying to read. I also make an effort to get my morning reading nook set up (books, computer, notebook, pens) so I don't have to scramble on Saturday morning.
Other than that, the most important thing (obviously) is to just have fun. Whether you read half a book or six books, the point is to set aside a little bit of time for books and have a fun day connecting with other readers.
Fellow readers, what are some of your best Readathon tips? I'd love to hear more in the comments.
Some of the links in this post are affiliate links through Amazon. If you make a purchase through any of those links, I will receive a small commission.