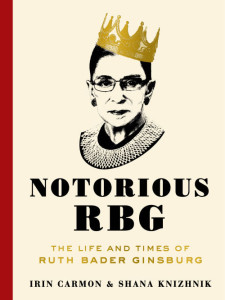 The most surprising fact I learned about Supreme Court Justice Ruth Bader Ginsberg – aka Notorious RBG – this weekend is that her reputation as a fiery dissenter on the Court is a product of just the last 10 to 15 years of her tenure. For most of her storied career, RBG has been someone who works to develop consensus, fighting for equality in the law through incremental steps and focused decision-making.
I'm so glad that I finally picked up my copy of Notorious RBG by Irin Carmon and Shana Knizhink during this weekend's readathon. This breezy, informative, and well-produced biography was fun to read and piqued my interest to dig more into the issues that were part of her career as a pioneering lawyer and judge.
And of course, the book is filled with many more fun facts than that: RBG works out regularly and (at 83) can do 20 push-ups. She has a particular jeweled collar she likes to wear when reading dissents. She was the first tenured female professor at Columbia Law School. She lives on coffee and can get away with just a few hours of sleep every night. She wrote a book about civil procedure in Sweden. She's basically a super woman.
In addition to just being boundary-breaking in her life and career, RGB worked to secure equal rights for women as co-founder of the ACLU's Women's Rights Project in the 1970s. Reading about the cases RBG helped lead filled me with feminist rage (in a good way). You guys, it's almost ridiculous to think that within the last 50 years a woman could be fired for getting pregnant and widowers weren't entitled to Social Security benefits because men weren't acknowledged as caregivers for their children. Through her early career as an attorney, RBG led a focused, incremental dismantling of laws that hurt women, working towards a more egalitarian vision that saw men and women as equals. There's a lot to admire in her strategy.
The only drawback of Notorious RBG – if you can even call it a drawback – is that it's so brief. As I was reading, I wanted to keep learning more about the various movements, organizations and moments that RBG has been part of through her career. So of course, I started putting together a Notorious RBG Reading List:
If you enjoy feminist biographies, Tumblr, kick ass ladies or legal drama, Notorious RGB might be right up your alley — I thoroughly enjoyed it.
Some of the links in this post are affiliate links through Amazon. If you make a purchase through any of those links, I will receive a small commission.