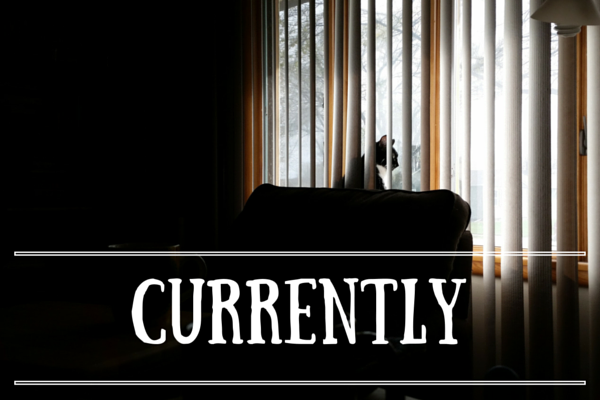 Briefly | It was a rough week — I was kind of frazzled and didn't sleep well at all — but the weekend has been calm and productive. I'm trying to enjoy it before diving back into the fray tomorrow. Yay, weekends.
Reading | I thought my reading would take a dive after the Readathon last weekend, but that has not been in the case. I finished two books this week — The Raven Boys by Maggie Stiefvater and (finally) The Expatriates by Janice Y.K. Lee. All the buzz about The Raven King, the last book in Stiefvater's Raven Cycle quartet, got me excited about the series, so I decided to give it a whirl. YA fantasy will be good for the few days of vacation reading I have coming up. And The Expatriates was really great, such an interesting exploration of motherhood and family and the roles women play at different times in their lives.
Watching | The boyfriend and I are excited that summer tv has started back up again — we're into Game of Thrones, Silicon Valley, Veep (that's more me than him) and Orphan Black.
Listening | I'm super close to finishing up The Caped Crusade: Batman and the Rise of Nerd Culture by Glen Weldon. Florinda (The 3R's Blog) had good things to say about it, and I tend to agree with her review. Batman isn't among my favorite superheroes, but the book is really smart in the way it explores how our feelings about Batman reflect broader changes in the pop culture landscape and the differences between "nerds" and "normals."
Cooking | I've got all the ingredients to make Creamy Parmesan Zucchini Rice from Iowa Girl Eats later today. We grilled steaks last night and have some leftover, which I think will pair pretty well with this side.
Blogging | This week I shared some thoughts on Notorious RBG by Irin Carmon and Shana Knizhink and linked up to an epic Book Riot post — 100 Must-Read Memoirs.
Promoting | Our Book Bloggers at BEA 2016 Facebook group has been busy this week. I'm so looking forward to seeing old friends and meeting new bloggers at the conference (it's coming up so fast!).
Hating | My Chromebook touchpad is being wonky this morning… it's super annoying!
Loving | Yesterday morning I finally sat down and looked through the schedule for BEA and made some notes about session I want to attend and books I'd like to try and get. It's nice to feel like part of my vacation next week is organized.
Avoiding | Ice cream? I started logging food again in attempt to get my eating back under control and try to drop a few pounds. It's good, but also super annoying.
Anticipating | Vacation! On Friday after work the boyfriend and I are leaving to go to Milwaukee to spend some time with his mom. Then I'm heading down to Chicago for BEA while he heads home. I really excited about the trip… but not all the stuff that needs to get done before I can go!
Happy Sunday, everyone! What are you reading today?
Some of the links in this post are affiliate links through Amazon. If you make a purchase through any of those links, I will receive a small commission.