One of the (many) things I love about my local library is that they've been doing a lot to expand their collection of comics. When I stopped in before the Readathon, I managed to walk out with quite the stack to choose from. I had to return many of them unread — I'm trying to clear the shelves before vacation — but realized I've still read quite a few excellent comics so far this year. Today I was to share three of them that I'd highly recommend.
American Born Chinese by Gene Luen Yang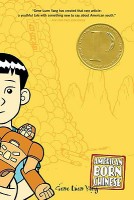 Pretty much no one needs me to tell them that Gene Luen Yang is an incredible comic talent and that his books are necessary reading (just to read my friend Andi's piece about his work on Panels if you don't believe me). American Born Chinese was my first of his comics, but it certainly won't be the last. He does an amazing job bringing together Chinese myths and a current experience of being Asian American in a creative and unique way. It was so great.
Cat Person by Seo Kim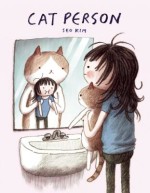 I picked up Cat Person at the library on a whim, since I am a crazy cat lady. And it was perfect. Kim has this goofy, sketchy style that works perfectly with the short little vignettes she puts together about weird specifics of life with a cat. Other sections are just sort of goofy, everyday life observations that somehow managed to perfectly capture moments of my life right now. I gave this book to the boyfriend after I finished reading it and he really enjoyed it too. I was totally delighted.
Sisters by Raina Telgemeier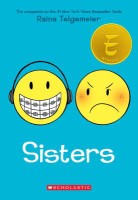 I bought a copy of Sisters last fall when my sister and I were traveling in Europe – a comic about two sisters traveling together just seemed too perfect. When I read it during the Readathon last month, it made me really nostalgic for the family vacations we took when I was a kid. Like Telgemeier, I have a younger sister and brother, and like their family we took an epic road trip out west when we were about those ages – all the feelings! It's a charming book, drawn beautifully in full color. I loved it. I loved it so much, in fact, that I immediately checked out another one of her books, Drama, from the library. That was delightful too. 
Some of the links in this post are affiliate links through Amazon. If you make a purchase through any of those links, I will receive a small commission.