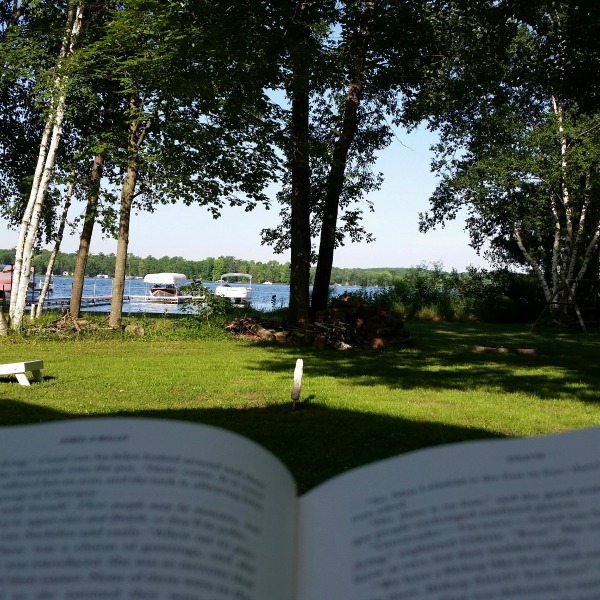 Briefly | The boyfriend and I spent the weekend at my parent's cabin in Wisconsin. We had a little celebration for my sister's birthday, and Father's Day. It was a pretty brief trip, but worth it just to go swimming for part of Saturday afternoon.
Reading | I finally finished a book! My first and (so far) only finished book of June was Before the Fall by Noah Hawley, which I really enjoyed right up until the ending wrecked the book for me. I don't want to spoil much, so for now I'll just say that Jenny's (Reading the End) post about toxic masculinity and The Association of Small Bombs articulates some of the issues I ended up having with the way the central mystery of Before the Fall — what caused the plane crash — ended up being resolved. While at the cabin I spent my time flipping between Stiletto by Daniel O'Malley and You'll Grow Out of It by Jessi Klein — both very funny, rather perfect as beach-side reads.
Watching | My Person of Interest binge is almost finished. I got through all four seasons available on Neflix, then splurged to buy the current season on Amazon. The series finale is this week, so I'll finish up shortly after that. It's been quite a run.
Promoting | My blogging BFF Florinda (The 3R's Blog) proposed a collaborative project for book bloggers to share reviews and favorite reads each month. It sounds pretty great!
Loving | This Washington Post piece by Alexandra Petri, "How to Cover Donald Trump Fairly: A Style Guide," is my favorite election-related piece written so far. An excerpt:
2. Style is as important as substance. A good post about Donald Trump includes at least one of the following words: "huge," "great," "manly," "terrific," "incredible," "fantastic," "remarkable," "big"/"bigly," "immense," "girthy," "magisterial," "gargantuan," "tumescent." Ideally, this word would be in the headline. A bad post about Donald Trump includes the words or phrases "puny," "dangerous," "Godwin's law," "cocktail shrimp in a toupee," "husk of dead skin and hyperbole," "garbage fart," "what results if you accidentally leave Guy Fieri in a microwave."
Anticipating | Later this month, our community is participating in a mock emergency disaster exercise. It's going to be a lot of work trying to get photos and write up a story, but I also think it's going to be a fun challenge. I've got some planning to do this week to get ready that I'm actually looking forward to.
Can't Let It Go | The Tyrannosaurus Rex is pretty popular right now. A group of T. Rexes were seen doing yoga in Ottawa, and a T. Rex even tried to complete the American Ninja Warrior course. Amazing!
Some of the links in this post are affiliate links through Amazon. If you make a purchase through any of those links, I will receive a small commission.