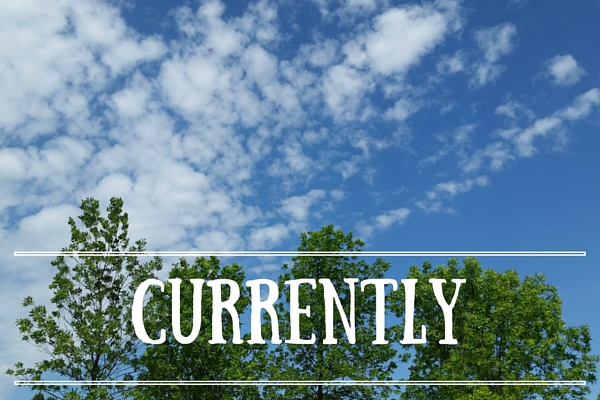 Briefly | Happy Monday! I case you missed it last week, I've decided to go with a slower blogging schedule this summer, just posts on Monday and Thursday. I'm not sure if every Monday will be a Currently post, but for now I like the format and think it'll do nicely.
Reading | Over Memorial Day weekend I finished two very different books about war — Grunt by Mary Roach and Ashley's War by Gayle Tzemach Lemmon. This weekend, my reading was much slower. I managed to make it a a ways into Swamplandia! by Karen Russell, but didn't get into much else… too much time in front of the television.
Watching | I am deep in the middle of a binge of Person of Interest. The show didn't get on my radar until just recently, when Alan Sepinwall, a tv critic I tend to trust, wrote about how he's revisiting the show as the final season airs. I'm deep into the series and don't see myself coming up for air anytime soon.
Listening | I've got a full slate of NPR podcasts queued up each week: Code Switch, NPR Politics, and Pop Culture Happy Hour. I feel like a stereotype.
Making | You'd think that all the time spent watching tv would mean that I'm making progress in the two baby gifts I'm crocheting, but no dice… still way behind on that.
Blogging | I shared some quick thoughts on Girls and Sex and Spinster, and did a May reading wrap up.
Promoting | In case you missed it, my interview with Leigh Bardugo, author of The Grisha Trilogy and Six of Crows, was posted to Book Riot last week. She was a lot of fun to talk to, and shared some good stuff about her upcoming book Crooked Kingdom and plans for a YA adaptation of Wonder Woman.
Hating | I did a few behind-the-scenes blog updates on Friday night, and now everything seems to be a little bit wonky. I'm not sure which plugin isn't cooperating with the current version of WordPress, but I fear finding out means dismantling a bunch of stuff I've set up. Technical maintenance is by far my least favorite part of blogging.
Loving | The weather was pretty stellar over the weekend. I got outside for long walks on both Saturday and Sunday — one with friends and one on my own. I crushed my FitBit step goal both days, which is exciting!
Anticipating | If everything goes as planned, the boyfriend and I are going to get away to the cabin once in June, and then again in July for Independence Day. The drive is about 4.5 hours, so it's not exactly a quick trip, but even for a weekend it's so worth it.
Some of the links in this post are affiliate links through Amazon. If you make a purchase through any of those links, I will receive a small commission.