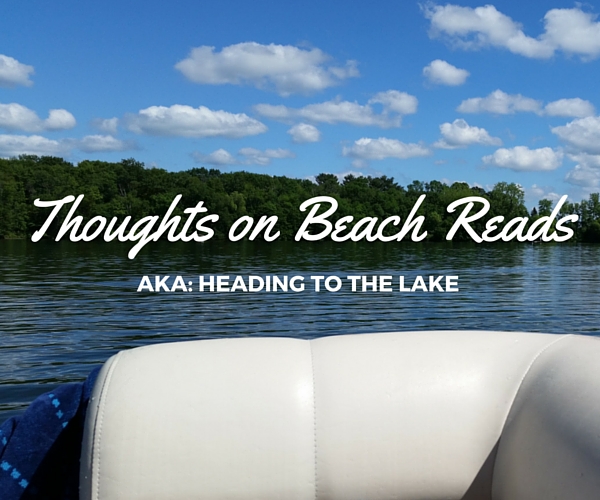 This weekend, the boyfriend and I are heading to my parent's cabin (soon to be retirement home) in northern Wisconsin for some family celebrations. Prepping for the first summer weekend at the lake always gets me thinking about what makes a good beach read.
The kind of book that's good for a long, warm, boozy afternoon is a rare beast, but after many cabin weekends I've got a pretty good idea of what kinds of books work particularly for me. Here are the four things I look for, plus a few books that I think fit the bill for a beach read.
It's easy to pick up and put back down.
Most of my time at the beach or on the lake is also time spent with other people. While I love a good, absorbing book, one of the things I've been working on is remembering that many of the best moments in life happen when you look up off the page and engage with what's happening around you. A good beach read is one that grabs my attention, but that is also easy dip in and out of as the day goes on.
It has simple prose and a simple plot.
This goes back to to my first quality. Good lake reads are books that don't take much extra mental energy to read. I tried a Jane Austen book at the cabin once and I just couldn't do it — classic prose seems to take too much effort. I also need the plot/structure to be relatively straightforward because I'm often too distracted to follow plot jumps or other experimental prose.
It's not depressing or political.
I don't subscribe to the notion that beach reads have to all be light and fluffy. I don't mind reading books that take on substantive topics while I'm by the lake, but I don't want something that's entirely grim because I'm just not in the mood for that. And I tend to avoid political books at the beach because I don't want to get into drawn out conversations about those kinds of topics when I'm with so many other people — nobody likes a current events debate while trying to enjoy a margarita.
It's a paperback.
This one is negotiable. I prefer to read paperbacks at the lake — they're lighter, cheaper, and easier to stow away — but I'll bring a hardcover if that's what is calling my attention at the time.
With all that in mind, here are a few of my favorite books that I also think would be great reads by the beach:
I'm still trying to decide what books I'm actually going to bringing with me this weekend. I'm leaning towards Rich and Pretty by Rumaan Alam (which breaks my paperback rule, but otherwise seems excellent) and You'll Grow Out of It by Jessi Klein (a collection of essays by the head writer of Inside Amy Schumer I grabbed at BEA). But that all may change as we're heading out the door tomorrow — given my abysmal reading record so far this month, I definitely need to go with mood reading now more than ever.
What beachy reads are you planning to pick up this summer?
Some of the links in this post are affiliate links through Amazon. If you make a purchase through any of those links, I will receive a small commission.