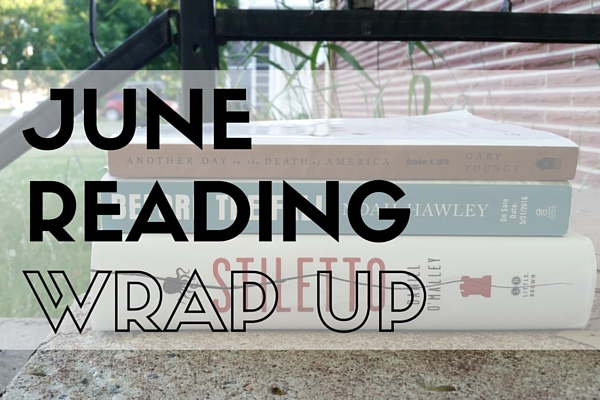 My June reading was slumpy, slumpy, slumpy. But as I started drafting this post, I realized that I shouldn't really be that surprised at a mid-year slowdown. I tend to read right around 100 books for the year, no matter what I do to try and read more or read less. At the end of May, I was already at 44 books for the year. If I'd been reading at a "normal" rate in June, I'd be well ahead of the amount my brain seems to "like" to read for the year. So instead of reading, I hunkered down on the couch and watched way too many episodes of Person of Interest instead. C'est la vie.
Due to all that tv and reading recovery, I only finished three books in June:
Before the Fall by Noah Hawley (fiction)
Stiletto by Daniel O'Malley (fiction)
Another Day the Death of America by Gary Younge (nonfiction)
I wasn't totally enamored with Before the Fall, but I loved both of the other books I finished. Stiletto was total delight, exactly as fun and funny as I hoped a follow-up to The Rook would be. If you like fiction about the supernatural that features several kick-ass female characters, these books are worth grabbing.
And and I can definitely say that Another Day the Death of America (Oct. 4 from Nation Books) is going to be on my list of best books of the year — there's a reason it was named to the 2016 BEA Editor's Buzz panel. The book looks at 10 young people who were killed by guns in the United States on one random day, Nov. 23, 2013. Younge uses their stories to take a look at what it means to live in a county that can't seem to enact meaningful gun control measures. It's a sobering, emotional read that I can't wait for more people to get in their hands.
A Look to July
I honestly have no idea how July is going to go. The boyfriend and I have some big changes coming up that are going to make July unpredictable, but more on that in another post.
If I can, there are a couple of fun fiction books coming out in the July that I'd like to read. The first is The Light of Paris by Eleanor Brown (July 12 from G.P. Putnam's Sons). I loved her debut novel The Weird Sisters, so I'm excited about this one, a family story connected to life in Jazz Age Paris. It sounds charming. The second is Sarong Party Girls by Cheryl Lu-Lien Tan (July 20 from William Morrow), which sounds a lot like another book I enjoyed, Crazy Rich Asians by Kevin Kwan.
And July is also my birthday month! I'll be turning 30 on July 8, which I'm having a hard time wrapping my head around. I have some thoughts brewing on that for a post as well, but we'll see how all of that turns out.
At any rate, happy June to everyone, and here's to a better July!
Some of the links in this post are affiliate links through Amazon. If you make a purchase through any of those links, I will receive a small commission.