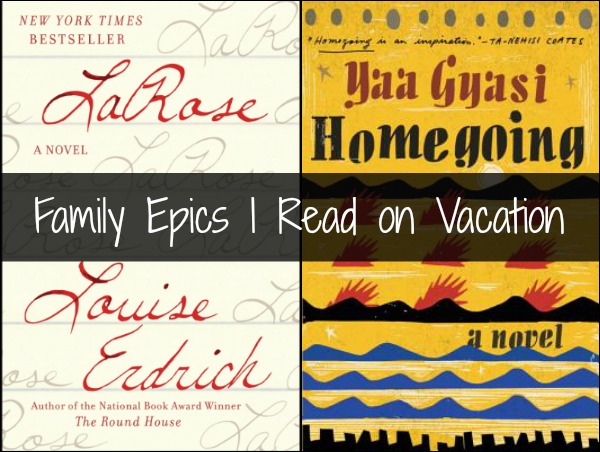 During my vacation last month to Milwaukee and Chicago, I found myself totally absorbed in a couple of big, epic family stories. While they're set in totally different places, both authors are really skilled at weaving together historical and contemporary threads. And despite covering huge topics, both books manage to feel specific and character-driven in a way that kept me turning the pages.
LaRose by Louise Erdrich
Louise Erdrich's newest novel, LaRose, starts out with a rather horrifying premise. While out hunting deer, Landreaux Iron kills five-year-old Dusty Ravich, the youngest child of a neighboring family. Law enforcement rules the shooting an accident, but Landreaux can't accept that answer. After consulting with their ancestors via a sweat lodge, Landreaux and his wife, Emmaline, give their son, LaRose, to the Ravich family as an act of atonement. Peter, his wife Nola, and his daughter Maggie welcome the boy into their family, although LaRose maintains a connection to his parents and siblings, tieing the two families together while other forces in their community threaten to topple the carefully balanced peace.
It's hard to say enough wonderful things about this book. It manages to perfectly balance beautiful writing, a compelling plot, and historical context in a way that's easy to read while still being substantial. Maybe that's sounds a little snobby, I don't know, but it's the perfect kind of balance I feel like I look for in fiction. While the story of how the Irons and Ravich families manage to survive after a terrible loss is gripping, I also loved the way Erdrich weaves in history – LaRose is the most recent in a line of family members with that name, all previously women, with their own harrowing stories. Erdrich's just an incredible writer, who is able to blend history and contemporary storytelling so beautifully – I really want to dive into more of her backlist later this summer.
Homegoing by Yaa Gyasi
I stood in line to get a copy of Homegoing by Yaa Gyasi at Book Expo America because a bunch of the writers at Book Riot have been raving about this one, and for good reason – it's pretty stellar. Homegoing starts with the story of two half sisters living in different villages in Ghana. Effia is forced to marry an Englishman who is part of the British slave trade in that region. Esi is a prisoner of the British who is eventually sold into the Gold Coast slave trade and send to America. Each chapter of the book follows the generations on both sides of the family, looking at the way the slave trade affected individuals on both sides of the Atlantic Ocean, touching on colonization, the Civil War, the Great Migration, and on into the present.
This book is just so great. I know I'm going to be recommending it a lot. I loved the structure, which is right in between interconnected short stories and an epic family drama. You get a sense of the big story of these families and how they fit into history, but every chapter is also a portrait of an individual at those times. It manages to be both very specific and incredibly broad, which feels like such an achievement. And through all of that, it's just a really great read – I started this one on my plane ride home from BEA and hated putting it down until I was finished.
Some of the links in this post are affiliate links through Amazon. If you make a purchase through any of those links, I will receive a small commission.