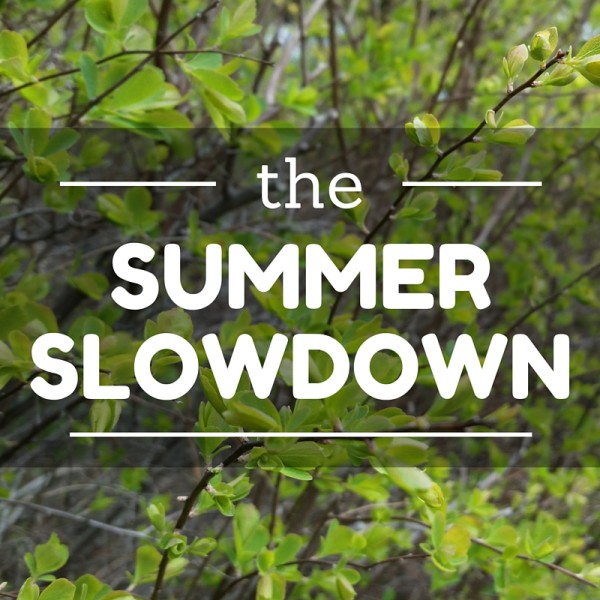 I hope you'll forgive a bit of navel-gazing for today's post. Over Memorial Day weekend, I got to thinking about what to do with the blog over the summer. A couple of bloggers I read regularly are embarking on projects to post on every one of the 99 days of summer (Memorial Day through Labor Day). I love that idea so much, but when I sat down to consider it myself I immediately knew ramping up the blog for the summer is not what I need.
What I really want is a summer slowdown, a dialing back of internet-related commitments so I can enjoy the beautiful weather, spend time with friends and family, and find some space to think about what I want this blog to be going forward. I'm turning 30 this summer, and just recently celebrate eight years of blogging. I want to think about what all of that means. Plus, work is gearing up for some difficult transitions this summer, and I want to give myself some extra wiggle room in that part of my life too.
I thought about just taking the summer off — 99 days without blogging, if you will — but quickly realized that I don't want everything to go dormant. I value this space as a reading journal and social outlet too much to just stop writing. I thought about just blogging when the mood strikes, but I also know that I'm not good at any practice without a schedule that creates accountability, even if that accountability is only in my head.
Anyway, that's a long way of saying that I'm going to shift to two posts each week: a Currently/Reading Log post each Monday and another post of any topic on Thursdays. I think this will give me the combination of structure and flexibility that I need to make blogging fun for me and enjoyable for others to read.
Cheers for an awesome summer full of sunshine, fizzy drinks, grill outs and great books!
P.S. In case you missed it, my interview with Leigh Bardugo, author of The Grisha Trilogy and Six of Crows, was posted to Book Riot last week. She was a lot of fun to talk to, and shared some good stuff about her upcoming book Crooked Kingdom and plans for a YA adaptation of Wonder Woman.