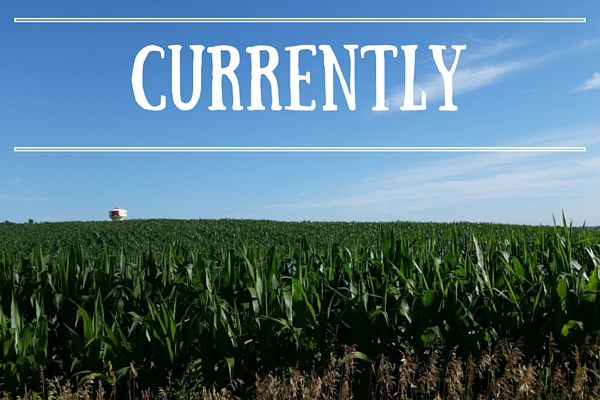 Briefly | As I'm drafting this post on Sunday afternoon, I'm having a hard time figuring out what this week has been about. I've been trying to savor the time we still have here, while also thinking about how we're going to get there. The week has been so full of awful things in the world, yet also full of lovely moments where I feel profoundly grateful. My faltering meditation practice is all about being in the moment, but that's been hard this week.
Reading | After about 50 pages, I'm going to have to give up on The Gene by Siddhartha Mukherjee. I'm enjoying it, but the length and tiny type just isn't meshing with the scattered brain-space I'm in now. I went with something easier this morning, You'll Grow Out of It by Jessi Klein, a collection of essays on being a lady by the head writer of Inside Amy Schumer. Funny and smart, which is what I wanted. I'm not sure what's next in the queue, but I'm feeling impulsive and random — maybe The Other Wes Moore by Wes Moore or Something New by Lucy Knisley.
Watching | Last night when I couldn't get to sleep I watched Spotlight, the 2015 film about the Boston Globe's investigation into sexual abuse within the Catholic Church. I liked that it showed journalists doing the job, the boring and the exciting parts, and never had a female journalist sleep with a source.
Listening | I just added Radiolab's More Perfect, a look into the world and impact of the Supreme Court, to my podcast queue. It's a spin-off series with just seven episodes, but it's a good legal nerd-out among my other podcasts.
Blogging | This week I wrote about how, ahead of a major move, I went out and bought a bunch of books. So responsible!
Loving | We got a new water softener in our rental house, which is amazing! My hair is so bouncy and full of volume now that it's not being weighed down with the junk in our town's extremely bad water.
Hating | Is it too early to say packing? I started organizing, decluttering, and boxing up my office and some of the kitchen supplies we don't use regularly. There's just so much left to go…
Anticipating | This week is looking pretty bonkers at work. I've got lots of events to cover and a mid-week trip for a meeting with other area editors.
Can't Let It Go | I finally got around to reading the cover story from the June/July edition of The Atlantic, "How American Politics Went Insane", and wow, did it give me a lot to think about. There's a lot in the piece, but the basic argument is that the current chaotic political process wasn't caused by any candidate and isn't a singular occurrence, it's a syndrome:
Chaos syndrome is a chronic decline in the political system's capacity for self-organization. It begins with the weakening of the institutions and brokers—political parties, career politicians, and congressional leaders and committees—that have historically held politicians accountable to one another and prevented everyone in the system from pursuing naked self-interest all the time. As these intermediaries' influence fades, politicians, activists, and voters all become more individualistic and unaccountable. The system atomizes. Chaos becomes the new normal—both in campaigns and in the government itself.
The idea that reform efforts designed to bring more transparency and accountability to the system have actually helped caused the breakdown is interesting — I definitely want to hear other responses to the piece.
Some of the links in this post are affiliate links through Amazon. If you make a purchase through any of those links, I will receive a small commission.