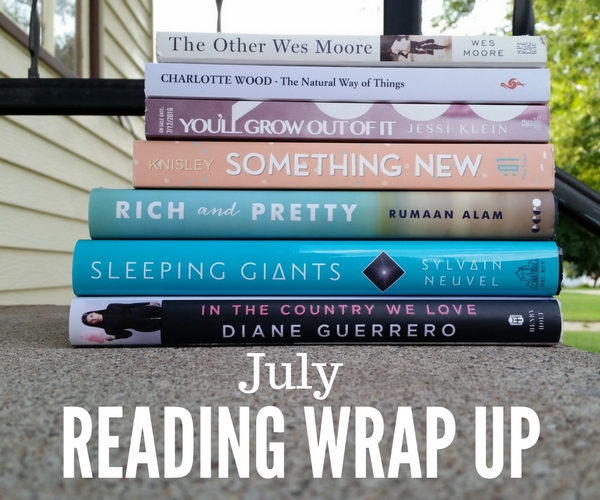 After a very slumpy month of reading in June, it seems like my energy came back this month. Thanks to the Fourth of July weekend and a mini-readathon a couple weeks ago, I managed to finish seven books this month and, in an exciting twist, I even managed to review four of them, like an actual book blogger!
Here's what I finished in July:
Rich and Pretty by Rumaan Alam (fiction)
The Natural Way of Things by Charlotte Wood (fiction)
You'll Grow Out of It by Jessi Klein (essays)
Something New by Lucy Knisley (memoir)
Sleeping Giants by Sylvain Neuvel (fiction)
The Other Wes Moore by Wes Moore (memoir)
In the Country We Love by Diane Gurrero (memoir)
On the whole, the month was pretty excellent when it comes to reading choices. I like the mix of fiction and nonfiction, and the books touched on a lot of my favorite topics — it's tough to pick top reads for the month.
A Look to August 
With our move coming up in just a couple of weeks, I can honestly say I have no idea what my August reading might look like. I am hoping to finish For Love of Politics by Sally Bedell Smith, a look at Bill and Hillary Clinton's time in the White House, before we go, since I need to return it to the library!
The other work of nonfiction I'm looking forward to this month is Riverine by Angela Palm (Aug. 16 from Graywolf Press), the most recent winner of the Graywolf Nonfiction Prize. Past winners of this prize have included two books I loved — Leaving Orbit by Margaret Lazarus Dean and The Empathy Exams by Leslie Jamison. Needless to say, I've got high hopes for Riverine. Happy reading!
Some of the links in this post are affiliate links through Amazon. If you make a purchase through any of those links, I will receive a small commission.