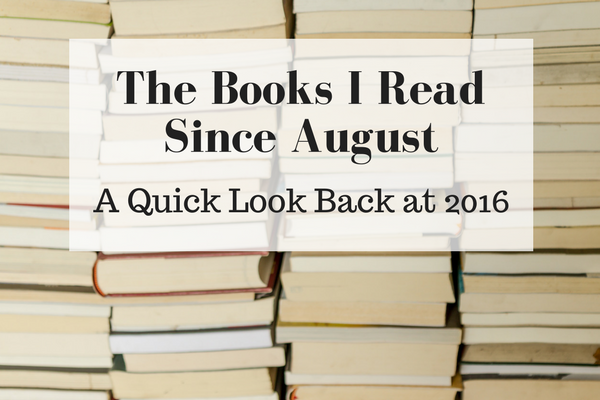 Welcome to 2017! Like many people, I am happy to be leaving the dumpster fire of 2016 behind and moving ahead to a new year which, I hope, will not be as terrible.
I thought about just jumping back into blogging in the new year, but decided I didn't want to move on to new things until I had a brief chance to recap some old things. I want to have a record of what I read last year, a place where I could at least look back and know what words I filled my brain and my heart with during this awful, dark time.
So, without further ado, here's my list of the books I've read since August when my world got turned upside down:
Funny Girl by Nick Hornby
A Torch Against the Night by Sabaa Tahir
The Girl With the Lower Back Tattoo by Amy Schumer
Black Man in a White Coat by Damon Tweedy
The Fate of the Tearling by Erika Johansen
Self-Inflicted Wounds by Aisha Tyler
Redshirts by John Scalzi
Crooked Kingdom by Leigh Bardugo
Three Dark Crowns by Kendare Blake
Her Halloween Treat by Tiffany Riez
The Wangs Versus the World by Jade Cheng
Bellweather Rhapsody by Kate Raculla
Carry On by Rainbow Rowell
Victoria by Julia Baird
American Wife by Curtis Sittenfeld
Words in Deep Blue by Cath Crowley
It's Ok to Laugh (Crying is Cool Too) by Nora McInerny Purmort
The Rules Do Not Apply by Ariel Levy
Looking back on that list, it seems clear that my reading since August had been… Sporadic? Comforting? Disjointed? Easy? Probably a little bit of all of those things.
I don't remember much about many of these books. I read them in a haze, or listened to them during my multi-hour commutes, or picked in and out of them over several weeks (or, in the case of Victoria, months) until I could jot them down on a page in my notebook. Finishing a book has felt a bit like finding my way back to myself and the person I used to be, even if I also know I don't ever really get to be that person again.
It's probably not surprising that I turned to young adult books over the last few months. There's something comforting about teenage problems and something optimistic about first love that I found soothing. I remember relying heavily on YA audio books to get through some long drives, and other big YA titles to serve as distractions when I needed them – highlights were Crooked Kingdom by Leigh Bardugo, A Torch Against the Night by Sabaa Tahir, and Carry On by Rainbow Rowell.
Another trend was audiobooks by funny ladies. In August, September and October I was commuting about 50 miles to work each direction, necessitating lots of audiobooks and podcasts. The best books on audio tended to be essay collections narrated by funny women, I think because they felt like podcasts and could hold my wandering attention. Self-Inflicted Wounds by Aisha Tyler was excellent, and I did a deep dive into You Must Remember This, a podcast on Old Hollywood by Karina Longworth.
Looking at the list, I'm a little surprised that I managed to also read some actual adult fiction. Nothing deep, but a few titles that felt like they were leading me back to the stories I tend to love. Funny Girl by Nick Hornby was a perfect distraction, and American Wife by Curtis Sittenfeld scratched a political itch I didn't know I had.
And finally, I read a bunch of books about grief and recovery and death and how you move on from the loss of your partner when you're young. Some were more obvious – It's Ok to Laugh (Crying is Cool Too) by Nora McInerny Purmort basically felt like it was putting my heart and mind on the page. But others, like Victoria by Julia Baird and Words in Deep Blue by Cath Crowley and The Rules Do Not Apply by Ariel Levy, came at it in slightly different directions. I'd recommend them all, though for slightly different reasons.
I'm not sure what my reading in 2017 is going to look like. I don't have any goals or specific plans, other than trying to focus on reading what I want and rediscovering the things that I love. I still don't know where the blog fits into all of that, but I'm hoping it starts to feel like a necessary part of my life once again soon.
But enough about me, how are you? What was the best book you read last year? What books are you anticipating for this year? This disconnected blogger desperately wants to hear!
And a Bonus Announcement!
Sign up for our new nonfiction newsletter TRUE STORY (written by @kimthedork!) & be entered to win this haul: https://t.co/ExlJuLTaJH pic.twitter.com/zgTK5QmKah

— Book Riot (@BookRiot) 9 January 2017
In case you missed the news, I'm going to be slightly expanding my role at Book Riot. I'll be editing and writing a twice-monthly nonfiction newsletter, True Story, beginning on Jan. 20. If you follow this link to sign up you'll be entered in a giveaway for some pretty exciting nonfiction titles. I hope you'll invite me to your inbox.