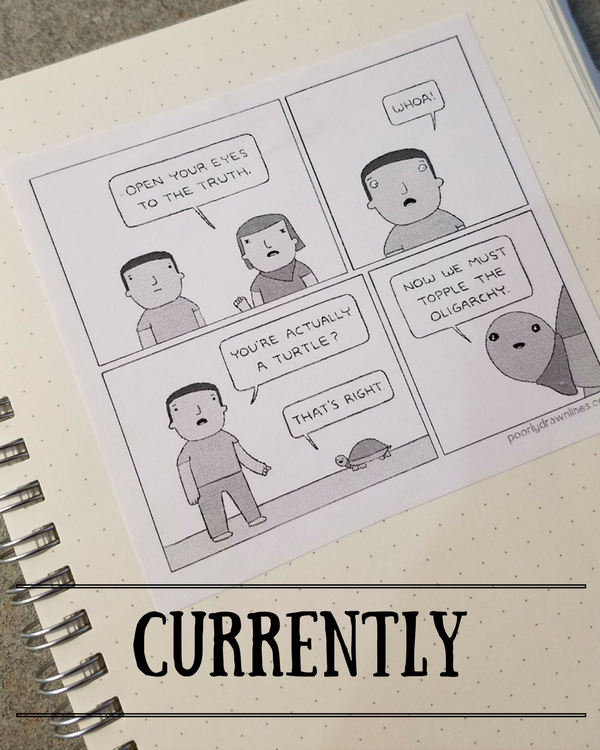 Briefly | I was planning to do a January reading wrap up post this week, but when I sat down to write it I realized I only finished two books last month – A Darker Shade of Magic by V.E. Schwab in print and Scrappy Little Nobody by Anna Kendrick in audio. It's not the most auspicious way to start off my 2017 reading life, but I guess that means things can only improve from here.
Reading | One of my goals for February is to read for 30 minutes every day. The two books I'm jumping between right now are The Power of Meaning by Emily Esfahani Smith (a look at the four pillars of leading a meaningful life) and A Gathering of Shadows by V.E. Schwab (the second book in the Shades of Magic trilogy). They're both comfort reads, in different ways, which feels exactly right for this strange season of life.
Listening | The last couple of months have been all about podcasts. I recently discovered another NPR gem, Hidden Brain, about many of the unseen forces that shape our lives. A November 2015 episode called "Lonely Hearts" hit me right in the feels this week.
Watching | I'm really enjoying PBS's new Masterpiece show on Queen Victoria, and I'm excited that The Magicians came back on SyFy last week. And although it was kind of twisty and dark, I really liked the ending of the first season of The Good Place, which wrapped up a couple of weeks ago (and is coming back for another season!).
Cooking | Over the weekend, I made this creamy bacon bow-tie pasta with Brussels sprouts recipe that Meg (Write Meg) recommended on her blog. It was excellent – so delicious and simple that I may just buy the cookbook it came from.
Missing | I've been in my new, long-term living situation since October, but I still haven't gotten around to getting a new library card. I miss browsing at the library a lot, so I'm hoping to remedy that situation this month.
Hating | I can't even really think of where to start on this one. The current political situation is bananas and infuriating and I can't imagine trying to sustain this level of outrage for the next four years. That's really all I can muster up about that. I put the cartoon from Poorly Drawn Lines at the top of this post in my daily to do list notebook last August as a joke… it's not really so funny anymore!
Loving | Losing the boyfriend the way I did has radically changed my perspective on the world, in both bad and good ways. One of the good things has been more gratitude for the people in my life who have stepped up in ways I couldn't have imagined. I'm trying to find ways to recognize, reciprocate and remain grateful for that.
Bragging | The newspaper I worked for until last August earned a first place general excellence award in our state's annual community newspaper contest. Awards don't always mean much, but it felt really good to have the work during my last year at the paper – a year that was challenging in a whole host of ways – recognized as being really good.
Promoting | The second edition of the nonfiction newsletter I'm writing for Book Riot, True Story, went out on Friday. If you haven't signed up, you can do that at this link. And if you missed it, you can read the first edition, a big juicy list of 15 of my favorite fun and fascinating nonfiction books, at this link.
And that's all I've got for now. Happy February, and happy reading! What are you excited about diving into right now?