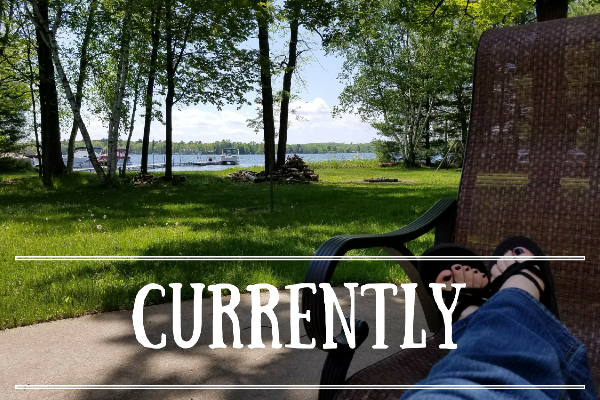 Briefly | It's early on a Tuesday morning, and I'm at home for a bit before heading out to BookExpo 2017 in New York. My flight leaves bright and early tomorrow, and I'll be coming home late Saturday. I've been on the road a lot lately, first out to eastern Wisconsin, then to our family cabin for Memorial Day, and up to northern Minnesota next week. Life is busy when you're unemployed (ha!).
Reading | Thanks to quiet time at the cabin, I got a ton of reading done while sitting by the lake (or, more often, inside the cabin looking at the lake because the weather wasn't particularly cooperative). I finished three books — The Unquiet Dead by Ausma Zehanat Khan (Canadian murder mystery, first in a series); My Lady Jane by Brodi Ashton, Cynthia Hand and Jodi Meadows (goofy young adult fantasy/historical fiction about Jane Grey); and Isaac's Storm by Erik Larson (narrative nonfiction about a 1900 hurricane in Galveston, Texas).
I'm nearly finished with two more — The Little Paris Bookshop by Nina George (women's fiction, a little out of my comfort zone but it came recommended), and One Day We'll All Be Dead and None of This Will Matter by Saachi Koul (hilarious essay collection about growing up the daughter of Indian immigrants).
Watching | I've been on a bit of a Disney movies binge the last few weeks with Mulan, Hercules, and Moana. They've all been really good! My sister and I also got out to the movies a couple of times to see Everything, Everything (so dang charming I could hardly stand it) and Guardians of the Galaxy Vol. 2 (very, very funny).
Listening | Spotify's Disney Hits playlist is pretty much the best, and I'm not even embarrassed to admit that.
Loving | Although I'm starting to feel some twinges of impatience, I am still enjoying my unemployment sabbatical. I'd like to start getting into more of a productive (but still relaxed) routine soon, but that'll have to wait until later in June.
Hating | My weight has been slowly creeping up the last several months. It's totally my fault — too many donuts, too little exercise — but that doesn't make it any less annoying. "Eat Less Junk, Move More Often" is going to be my motto once I get back from NYC.
Anticipating | BookExpo 2017! I'm bummed that my usual roommate, Florinda of The 3R's Blog, won't be there this year — she's off having the best time in Italy — but I'm excited to get to spend the conference with two of my other favorite bloggers, Shelia of Book Journey and Candace of Beth Fish Reads.
I feel totally unprepared for the conference — especially compared to Chicago last year — but I think that just gives me more flexibility to roam the floor and see what's out there. No matter what, going to New York and nerding out about books will be fun. If you're reading this and will be there, let me know so we can meet up!