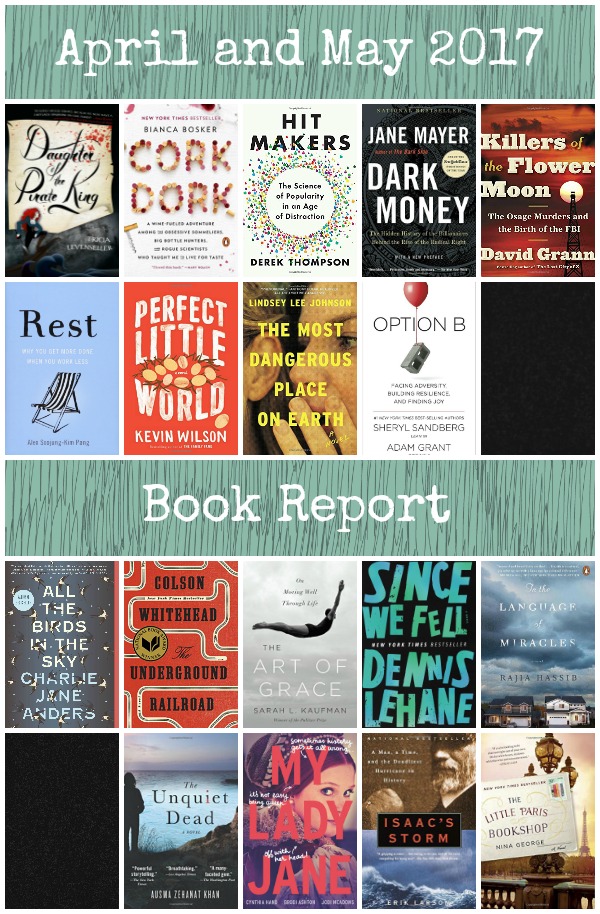 Unsurprisingly, being unemployed since the end of March has been really great for my reading life. I've read more in each of the last couple of months than I did through all of January, February and March, which feels amazing! I mean, the whole not working thing isn't really sustainable in the long term, but for now I am just grateful to be getting my reading groove back.
April 2017
First up, the books I finished in April:
Wow, looking at that list is surprising — I didn't realize how much nonfiction I read in April, and how many were good. I really liked Cork Dork and Killers of the Flower Moon, and got a lot to think about from Option B, Sandberg and Grant's new book about grief, joy and resilience. Perfect Little World was also a great read, a fun look at family and community and rebuilding after calamity.
May 2017
And second, the books I finished in May:
Having a long weekend at our family cabin for Memorial Day helped me finish a lot of books, many that were outside my normal reading comfort zone. Both Since We Fell and The Unquiet Dead were fun mystery/thrillers, and My Lady Jane was a goofy young adult fantasy with magic and shape changing and royalty. The Little Paris Bookshop was also a good read, in an unexpected way.
A Look to June
On Monday, I spent most of the day cleaning and reorganizing all of my books — gotta make space for the new BookExpo titles and all the books I've been buying (whoops). But getting things in order made me so excited for all the books I've got to choose from… and also a little overwhelmed, so many choices.
Today I am heading out of town for a long weekend in Duluth (my last bit of travel for awhile), and so I'm trying to decide what books to bring. So far, I know I'll be packing The Radium Girls by Kate Moore, a narrative nonfiction account of the horrors of radium, and Startup by Doree Shafrir, a novel about startup culture in Manhattan. They both sound like fun.
So, yay, summer reading on the North Shore and on the patio. I can't wait. What books are you excited for this summer?