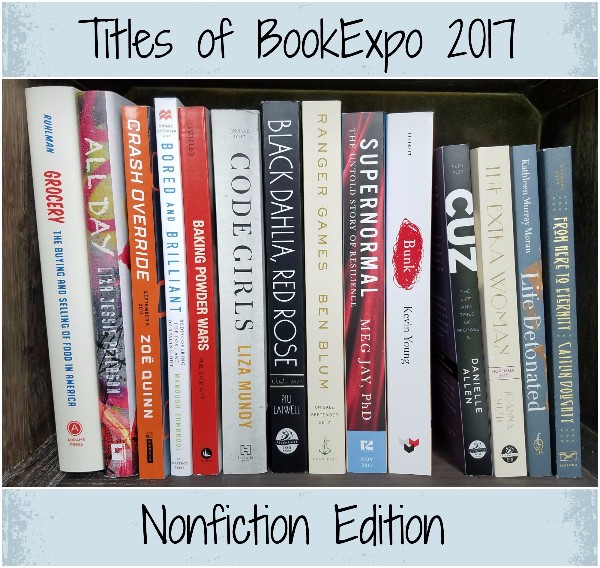 Life moves fast, doesn't it? I feel like I just got home from BookExpo 2017 in New York City, but looking at my calendar I can see that it was almost two weeks ago — I guess that's what traveling will do to you!
BookExpo, for those who aren't familiar, is an annual conference for publishing industry professionals. This year BookExpo ran for two days, followed by BookCon, a more consumer-focused event marketed as a "Comic Con for book lovers." I just stuck around for BookExpo this year. The conference includes panels, giveaways, author signings and other educational events for folks like librarians, bookstore owners, authors, agents, and book media.
I spent most of my two days at BookExpo wandering the floor alone or with Alice (a fellow Book Riot contributor and blogger at Reading Rambo). I enjoy walking the floor with a friend — it feels less intimidating to walk up to booths that way, and it's fun to see what books grab another reader's attention. Alice rounded up some of her favorites on her blog, and in a Book Riot post called BookExpo: Females Strong As Hell Edition.
The other two people I spent the most time with were my roommates, Sheila (Book Journey) and Candace (Beth Fish Reads). They are two of my favorite bloggers ever, and made me feel right at home crashing with them at their hotel. And we all missed my usual BookExpo roommate, Florinda (The 3Rs Blog), who was off gallivanting about Italy (#jealous).
Sheila highlighted a few of her top finds on her blog, and Candace has done a number of posts — her top five picks, books from small publishers, and books from big publishers. The best thing about clicking through to all of those links is that you'll find a bunch of books that I didn't even see — BookExpo is that big and that varied.
I decided to split up my main BookExpo coverage into two posts — my top nonfiction picks and my top fiction picks. Today's post is all about the nonfiction that caught my eye and made its way home in my suitcase. (I also shared some titles in the most recent edition of my nonfiction newsletter for Book Riot, True Story, which you can sign up for at this link).
Out Now/Summer 2017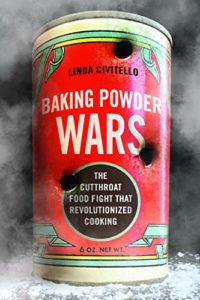 The very first book Alice and I scurried to find was Baking Powder Wars by Linda Civitello (University of Illinois Press) because who would not want to read a microhistory of "America's essential main ingredient." Similarly, Grocery by Michael Ruhlman (Harry N. Abrams), looks at America's relationship with food and our local grocery stories.
One of the buzzier nonfiction titles of BookExpo was The Radium Girls by Kate Moore (Sourcebooks), a story about the history of radium and a group of young women (mostly immigrants) who were killed by the chemical because of their work making glowing watches for the United States Army.
Another book I'm excited for is All Day by Liza Jessie Peterson (Center Street), a story about a poet who spent time teaching incarcerated youth at Rikers Island.
September 2017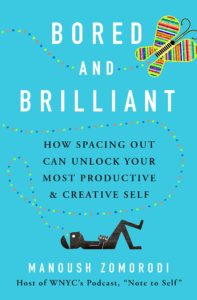 I was excited to stumble upon Bored and Brilliant by Manoush Zomorodi (Sept. 5 from St. Martin's Press). Zomorodi is the host of WNYC Studio's Note to Self podcast, one of my favorite podcasts on life and technology. This book looks at "the connection between boredom and original thinking."
In 2014, game developer Zoe Quinn's life was almost destroyed by online harassment as part of the #gamergate awfulness. In Crash Override (Sept. 5 from PublicAffairs), Quinn shares her experience and her work helping others through the Crash Override Network.
In Cuz (Sept. 5 from Liveright), Danielle Allen looks at mass incarceration through the story of her first cousin, who spent more than a decade in jail as a young man, then struggled to survive after he was released.
Another book I found while wandering was Ranger Games by Ben Blum (Sept. 12 from Doubleday). In this book, Blum investigates a crime involving his first cousin, a U.S. Army Ranger who, the day before it was set to deploy to Iraq, robbed a bank with two soldiers and two strangers. Blum looks the crime.
October 2017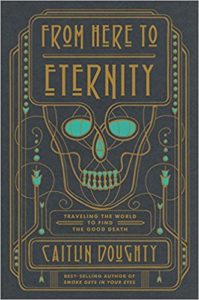 I really loved Caitlin Doughty's first book (a memoir of becoming an undertaker), so I was psyched to snag a copy of From Here to Eternity (Oct. 3 from W.W. Norton), a look at how cultures across the world care for their dead.
Kathleen Murray Moran lost her husband on Sept. 11, 1976, to a terrorists bomb at Grand Central Station. Life Detonated (Oct. 10 from Amberjack Publishing) is her story of young widowhood and resilience — this one got on my radar for obvious reasons, and I'm looking forward to reading it.
I love historical true crime, so of course I managed to bring home a copy of Black Dahlia, Red Rose by Piu Eatwell (Oct. 10 from Liferight). The book revisits the murder of starlet Elizabeth Short in 1947, and provides a new account of this unsolved murder.
One of my not-so-secret obsession is cryptography, which also made me excited for Code Girls by Liza Mundy (Oct. 10 from Hachette Books), a look at the "hidden army of female cryptographers" who helped end World War II.
November 2017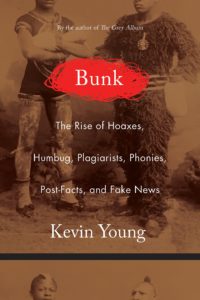 Graywolf Press does great nonfiction, and Bunk by Kevin Young (Nov. 14 from Graywolf Press) looks like it won't be an exception. Subtitled "The Rise of Hoaxes, Humbug, Plagiarists, Phonies, Post-Facts and Fake News," this one looks super timely.
I grabbed a copy of Supernormal by Megan Jay (Nov. 14 from Twelve) because I have been reading a lot on resilience this year. In the book, Jay "narrates the continuing saga that is resilience as it challenges us to consider whether — and how — good wins out in the end."
And finally, I am excited about The Extra Woman by Joanna Scutts, "a cultural history of single women in the city" inspired by the life and work of Marjorie Hillis (Nov. 14 from Liveright).
Whew! That got really long really fast! Thanks for sticking with me through all of that. I'll have another (much shorter) post with some of the fiction I picked up at BookExpo up soon.
What books from this epic are you most interested in? What should I start reading first?