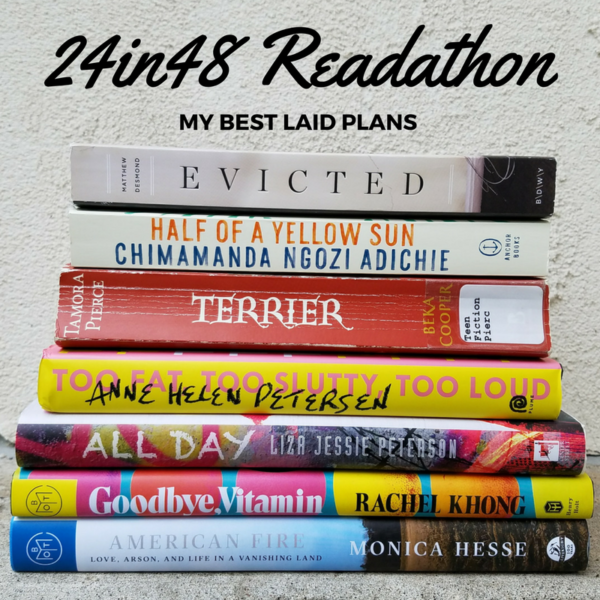 I've been thinking a lot this week about how, for me, sitting down with an absorbing book can be an almost meditative activity for me. It helps me settle into a rhythm, silence the voices in my head, and stop multi-tasking in a way few other activities do. Which is why I am so, so excited for this weekends 24in48 Readathon, hosted by Rachel, Kerry and Kristin.
If reading for 24 hours over a 48 hour weekend is a marathon, then I'm trying to run the half marathon — 12 hours between 12:01 a.m. on Saturday and 11:59 p.m. on Sunday (Eastern Standard Time). That feels like a reasonable goal to me. It's long enough that I'll have to consciously choose reading over other activities that I like to do on weekends, but not so long that I feel like it's impossible.
The biggest challenge is going to be Sunday. My sister signed us up for cooking class to learn to make donuts, and then we're going to have a bit of a girls day in Stillwater (a super cute town along the river at the Minnesota/Wisconsin border). There's a winery, ice cream, and bookstores… so of course we'll be spending some time there. But, I plan to read most of the day Saturday, and as much as I can on Sunday before and after our adventure.
I didn't spend as much time making up a possible readathon book pile this time around, mostly because I feel like I haven't had the mental space to think much (I've had a busy week of job searching activities). So, these are primarily the books sitting on the shelf in front of my face or that have come into the house fairly recently.
I definitely want to finish Evicted — I'm about two-thirds done, and need to finish it for my book club meeting next week. I'm also excited to dig into American Fire, but I'm worried it'll be a little heavy on top of Evicted. We'll see… if for some reason none of these catch my eye tomorrow, I've got quite a few other books to choose from!
I'll be posting all of my readathon updates over on Instagram, so follow me there: www.instagram.com/kimthedork.
Are you participating in this weekends 24in48 Readathon? What books are you excited to pick up?