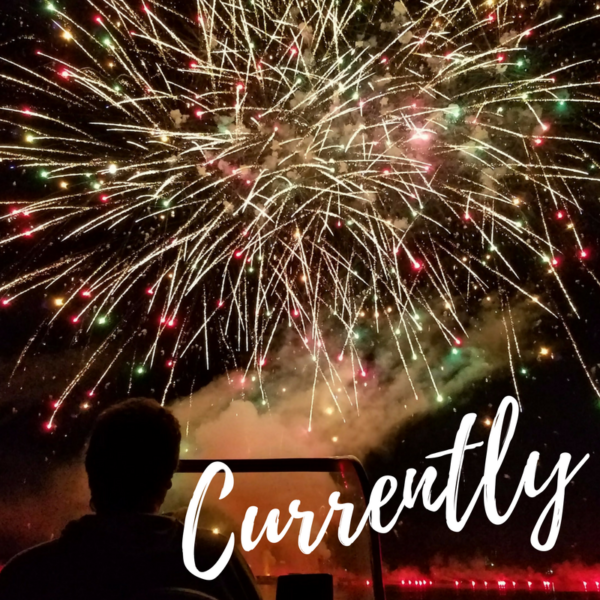 Around Here | Life continues to be pretty chill, what with the not having a job thing. I'm starting to gear up my job search a little more, which I think is good since the whole process takes such a long time anyway. I'm focusing on public sector or nonprofit communications jobs in the Twin Cities metro area, which is a decent-sized pool to work with, it seems.
Reading | I got a lot of reading done over my Fourth of July holiday at the cabin, but things have been pretty slow since then. I blame random surfing on the Internet — I am not good at just putting my phone away to read without distraction, but it's a thing I want to work on. Anyway, over the holiday I read Chemistry by Weike Wang (a "coming-of-age novel about a young female scientist who must recalibrate her life when her academic career goes off track") and Sisterland by Curtis Sittenfeld (a novel about twin sisters who may or may not be psychic, and what happens after one makes terrifying public prediction).
Since then, I've been very slowly working through Behold the Dreamers by Imbolo Mbue (a novel about African immigrants trying to make it in America in the shadow of the 2008 economic collapse) and The Power of Meaning by Emily Esfahani Smith (nonfiction about finding meaning and purpose in our everyday lives).
Watching | The most recent season of iZombie finally made it to Netflix! I binged the 13 episodes in a single day, and I can't bring myself to feel sorry about that. Rose McIver, who plays the main character, Liv Moore, is just a treasure, and so funny in every episode. I am also really digging two family comedies — Fresh Off the Boat and Speechless.
Listening | New podcast alert! Sam Sanders, formerly of the NPR Politics team, is hosting a new podcast called It's Been a Minute. On Tuesdays he does a deep dive interview or exploration of a single topic, and on Fridays it's more of a conversation with guests about the news and culture of the week. I've only listened to the Friday episodes so far, but I like them!
Drinking | For my birthday last weekend we had two champagne cocktails, a Peach-Orange Bellini and a French 75. Both were super tasty, and also really boozy.
Obsessing | For like the last month I've been falling down many strange rabbit holes related to my bullet journal. A basic bullet journal is just a notebook with different types of lists — future plans, monthly and daily to dos, collections — that you just keep all in one notebook. But there are a ton of people who do more than that — really elaborate spreads, stamps, journaling, photos, etc., making their bullet journals into a productive and creative space. I am not artsy, but I've been really into looking at art journaling supplies, brush lettering classes, stamps and stickers… I'm falling in deep.
Loving/Hating | Minnesota is moving into the hot, humid weather that characterizes the middle/end of summer. It's making it harder to be outside, but I'm trying to get some sun and enjoy our patio on the slightly cooler days and evenings.
Enjoying | The Fourth of July fireworks display on the lake at our cabin was pretty epic this year. We were really, really close, and I ended up getting a lot of great pictures — not typical for a fireworks display!
Feeling | Times around events, holidays, or anniversaries are so strange for me. There's this weird dread/anticipation leading up to the event (currently, my birthday) where I think about Nate a lot, and how things would be different if he were here, and how every time something changes it takes me further away from him and our life together. I haven't figure out what to do with those feelings, other than feel them and be open to people near me about why I am acting so strange. Grief is hard.
Anticipating | For my birthday, my sister signed us up for a cooking class where we are going to learn to make donuts. Donuts! Could there be anything more exciting? I don't think so.
What are you reading, watching and listening to this fine summer season? I'd love to hear in the comments!