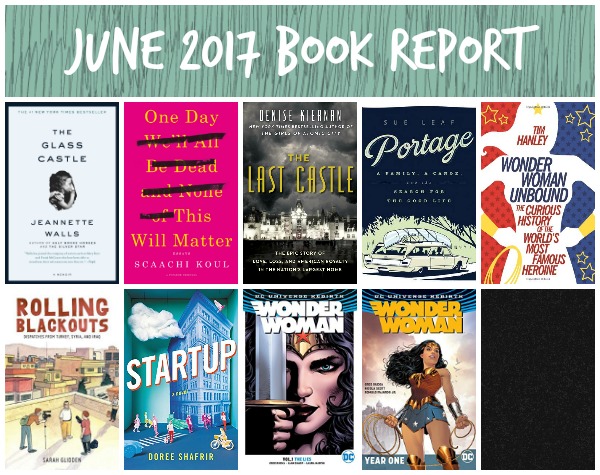 Another month is in the books, so I've got another look back at the books I managed to finish. I hope people like these posts, because I like writing them. And it's nice to have a way to look back on my reading in more detail as time passes.
Overall, my June reading was a little bit slow — I blame an increase in TV watching more than anything else. Just about everything I read was excellent, though, which makes the slower pace not much of a problem. Here's what I finished:
I ended up reviewing all of these on Instagram, so those mini-reviews will make it here to the blog sometime in the next couple of weeks. Portage was probably my favorite of the month, a collection of essays about canoeing and nature was an unexpected surprise. I'm also really glad I finally read The Glass Castle — it's a classic memoir for good reason. One Day We'll All Be Dead and None of This Will Matter was also a treat, a funny collection about growing up as the child of immigrants.
A Look to July
When this post goes up, I'll be at my family's cabin for a long Fourth of July weekend. I packed way too many books, of course, but isn't that what vacations are for? Here's what I've got in my beach bag:
I wish I could say that I know I'll get to all of those books in the next few weeks, but who really knows. Reading lists are meant to be written and ignored, right? I do know I will also be reading Evicted by Matthew Desmond, because it's my book club's pick for July. Other than that… the skies the limit.
What books are you reading over Independence Day? What are you looking forward to reading in July? Inquiring minds want to know!