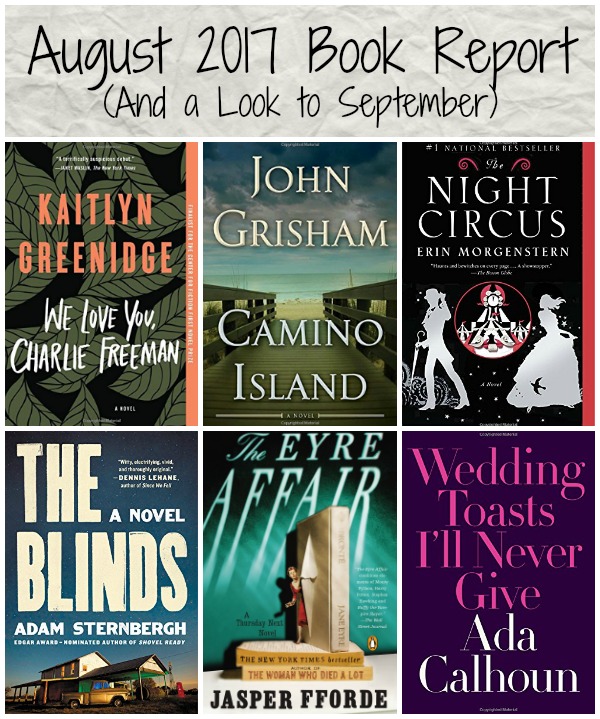 I feel like I say this every month but… can August really be over? Can we really be moving into the fall, with back to school and turning leaves and pumpkin spice everything? It feels like the summer flew by, and I wasn't even that busy.
One of the (many) strange things about unemployment is the way time seems to fill in a totally different way. It's something I've talked with my therapist about, this feeling of having all the time in the world to do the things I want to do, but not necessarily being able to enjoy it because of the lingering anxiety that sits right in the background. Or the challenges of finding ways to fill this expanse of time so it feels like I'm not just sitting still while the rest of the world moves along beside me. I've never had a season of life like this one, and I'm sort of grappling with it in the background all the time. But… that's enough existential unemployment angst for one post, let's talk about books!
My reading in August was a little slower than I initially expected it might be, but looking back I can see that coping with the one year anniversary of Nate's death took up a lot of space and energy that pulled away from other things I might have preferred to be doing. Still, six books isn't a bad total for the month:
Honestly? Nothing really stands out to me as an outstanding read. My favorite was probably Wedding Toasts I'll Never Give, a slim collection of essays about marriage that sort of surprised me. The Night Circus was a re-read for a book club, and I certainly enjoyed it, but I just wasn't as wowed by it this time around. I did also like The Blinds, a sort of science fiction-esqe Western where criminals have their minds erased in exchange for a new life in a remote desert community, but it wasn't life-changing. All in all, August was a fine but not extraordinary month of reading.
A Look to September
September kicks off the big fall publishing season, so a lot of the galleys I picked up at BookExpo in May are approaching their publication day. In order to try and read as many as possible, I'm challenging myself to go on a television diet this month — I can watch shows with other people, but I'm going to try not to just sit around and watch tv on my own. Hopefully that'll help boost my reading time for the month.

I'm hoping to jump start that month of reading this weekend when I'll be up at the cabin with my family. Here are some of the books I'm throwing in my suitcase:
The Fifth Season by N.K. Jemison — This one finally came in at the library for me, and I am psyched. It's the first in a science fiction trilogy that just concluded this fall, so if I like it I can jump into the next two pretty quickly.
Black Flags: The Rise of Isis by Joby Warrick — This book, a look at how the strain of militant Islam we now know as ISIS formed and spread — won the Pulitzer Prize for General Nonfiction in 2016. It was an impulse buy a few weeks ago, but I've already been sucked in. The narrative and storytelling are really strong, which I feel like you need for a book on a topic as difficult as this one.
Wonder Woman: Warbringer by Leigh Bardugo — My favorite YA author writing about one of my favorite superheroes as a teenager. Yes, please. This one just came in the mail and I am psyched to read it over the last long holiday weekend of summer.
The Light We Lost by Jill Santopolo — I'm not sure where I found this one, but I am all in for a "devastatingly romantic debut novel about the enduring power of first love" as a vacation read.
I'll probably bring one more book, likely nonfiction, but I'm not sure what I'm in the mood to grab. Five books, plus my Nook, isn't too many books for one long weekend, right? What books are you excited to pick up over the last weekend of summer?