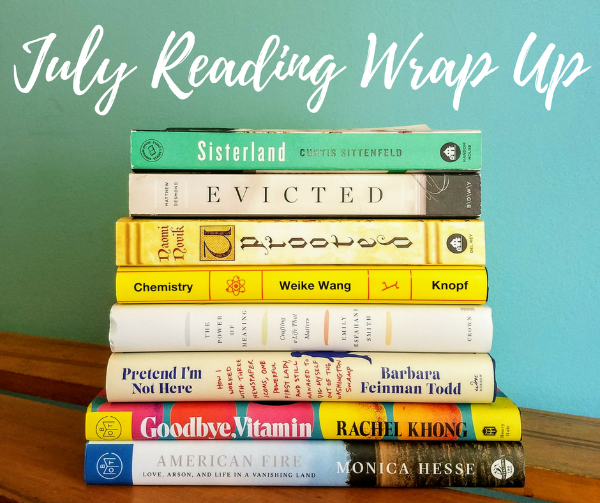 Can it really be August already? That is bananas. Anyway… on to the books! Thanks to the awesome 24in48 Readathon earlier this month, I managed to finish eight entire books in July. It seems weird that I'm not reading more, given that I'm not working right now, but I suppose there's only so much time a person can spend reading before you want to so something else. And eight books in a month is a decent pace for me, in general, so I'm not complaining. Here's what I finished:
The two books I liked most this month were Evicted and The Power of Meaning. Evicted is an incredible piece of reporting, even if it's very, very hard to read. And The Power of Meaning gave me a lot to think about in terms of finding a sense of purpose during a season of life where it's difficult to see that. My favorite piece of fiction was Uprooted. I got this very particular craving for fantasy in the middle of the month, and since Uprooted is a rare stand-alone novel, I got to jump in and jump out with ease. Plus, it's just a really engaging novel — I definitely want to read more of Naomi Novik's work.
For those counting (like me!), this puts me at 45 books read for the year, which is about on pace for what I've typically read… although my life has been so weird the last 12 months that it's hard to even really assess what is typical or normal anymore. In the past I've read around 100 books in a year, so although this is slow it's getting closer to average.
A Look to August
Now that the summer is winding down, it means that the fall publishing season is gearing up. A lot of the books I brought home from BookExpo (both fiction and nonfiction) publish in September, so I'm hoping to start reading ahead a bit on those titles… and maybe previewing them here? I'm not sure yet. And of course I have a bunch of backlist and earlier-in-2017 books that I would like to get to this month. Here's what's on tap:
The Night Circus by Erin Morgenstern — I'm rereading this one for a book club I am in and I am so excited about it. The fantasy craving I've had since Uprooted hasn't totally gone away, so I think this will help scratch that itch. Mixed metaphors!
The Eyre Affair by Jasper Fforde — This is another one I'm reading for a book club. I don't know a lot about it, but I think it will be fun?
We Love You, Charlie Freeman by Kaitlyn Greenidge — I'm working on a post for Book Riot that may include this book, so I want to read it soon. Also, a book about a family that becomes part of a research experiment pushes a lot of my buttons.
Fifty Inventions that Shaped the Modern Economy by Tim Harford (Aug. 29 from Riverhead Books) —  I got this one for review and I'm pretty psyched about it. Harford (probably best known for being the Undercover Economist), writes about a bunch of random inventions that have had major impacts on our current economic system. It sounds like it'll be interested to dip in and out of.
American Eclipse by David Baron — This one is a look at "a nation's epic race to catch the shadow of the moon and win the glory of the world" during the last total solar eclipse in 1878. It looks super interesting!
And that, I think, is that. In addition to reading, I'm planning some trips this month, sending out a lot of job applications, and just trying to squeeze as much awesomeness out of the end of the summer as I can. What are your plans for the month? Let me know in the comments!