Dewey's 24-Hour Readathon is coming! The Readathon is probably my favorite day of the whole year. There's nothing more indulgent or nerdy that sitting down to read for an entire day with the rest of the bookish Internet.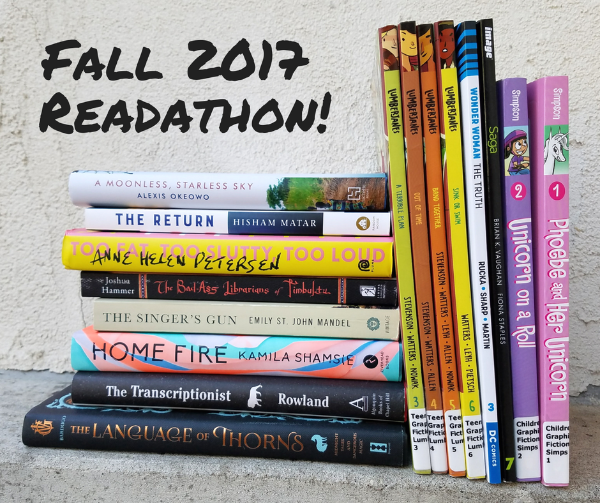 To get ready, I've been focusing on my five major strategies for Readathon success — choosing short books with big fonts, starting with a quick-ish read, mixing genres and formats, preparing mostly healthy snacks, and getting the house tidied up for a distraction-free day. I'm also excited that I'll have two Readathon companions this year. My sister and my mom will be around on Saturday, and both are planning a full day of reading. I think that will be really fun!
I've been taking books and and off my stacks for the last few weeks, but I think I've finally settled on my options for Saturday. If the day goes really well I'll be able to finish four books, plus a few comics, and clock in some time with an audio book. Here's what I'm considering:
Nonfiction
Fiction
I've also got several comics on my pile — four volumes of Lumberjanes, Saga Volume 7, Wonder Woman Vol. 3: The Truth, and a couple volumes of Phoebe and Her Unicorn. I am pretty psyched about those too!
Like usual, I'll have a post up here on Saturday where I'll collect my updates from the day, primarily my Twitter feed (@kimthedork) and Instagram (kimthedork). For the last several Readathons, I've been using Storify to collect all of my updates in one place, and I anticipate doing that again because it's really convenient.
Happy Readathon, see you then!