Do you love November? Do you love nonfiction? Then consider joining Julie (JulzReads), Sarah (Sarah's Book Shelves), Katie (Doing Dewey), Lory (Emerald City Book Review) and I for Nonfiction November, a month-long celebration of everything nonfiction.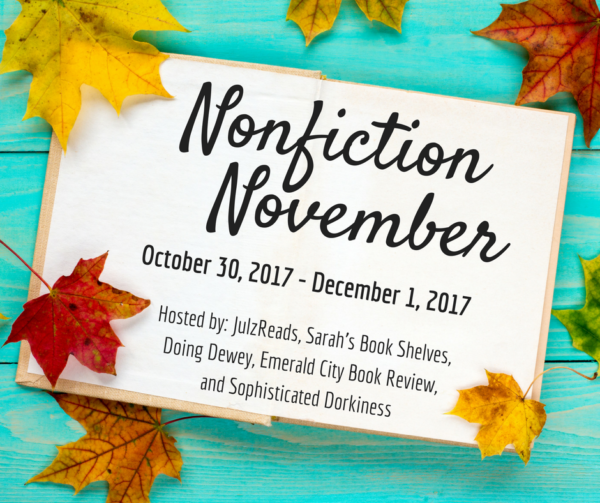 A Little Looking Back
Before I get into the logistics and prompts, I hope you'll give me a little space for some reminiscing. Nonfiction November has been around since 2013, when one of my blogging friends and I decided to launch a personal challenge to read exclusively nonfiction during the month of November. We decided to open the challenge up and invite other bloggers to join us, with weekly prompts and link ups to discuss and share our favorite nonfiction books.
The reception was awesome, and the event has come back every year since then with a different group of hosts. For personal reasons, I wasn't able to be involved last year, but others took up the cause and did a great job. It's been so gratifying to see a little thing launched with very little thought turn into an annual event that other bloggers look forward to participating in. Ok, end of the sappiness.
Nonfiction November 2017
Nonfiction November will run pretty much as it has every year. On Monday, the week's host will put up a post with our prompt for the week where you can link up your posts throughout the week. On Friday, the host will gather up responses and share a few as part of a weekly round up. Here are the dates, hosts and topics for this year:
Week 1: (Oct 30 to Nov 3) — Julie @ JulzReads — Your Year in Nonfiction: Take a look back at your year of nonfiction and reflect on the following questions – What was your favorite nonfiction read of the year? What nonfiction book have you recommended the most? What is one topic or type of nonfiction you haven't read enough of yet? What are you hoping to get out of participating in Nonfiction November?
Week 2: (Nov. 6 to 10) — Sarah @ Sarah's Book Shelves — Book Pairing: This week, pair up a nonfiction book with a fiction title. It can be a "If you loved this book, read this!" or just two titles that you think would go well together. Maybe it's a historical novel and you'd like to get the real history by reading a nonfiction version of the story.
Week 3: (Nov. 13 to 17) — Kim @ Sophisticated Dorkiness — Be The Expert/Ask the Expert/Become the Expert: Three ways to join in this week! You can either share three or more books on a single topic that you have read and can recommend (be the expert), you can put the call out for good nonfiction on a specific topic that you have been dying to read (ask the expert), or you can create your own list of books on a topic that you'd like to read (become the expert).
Week 4: (Nov. 20 to 24) — Katie @ Doing Dewey — Nonfiction Favorites: We've talked about how you pick nonfiction books in previous years, but this week I'm excited to talk about what makes a book you've read one of your favorites. Is the topic pretty much all that matters? Are there particular ways a story can be told or particular writing styles that you love? Do you look for a light, humorous approach or do you prefer a more serious tone? Let us know what qualities make you add a nonfiction book to your list of favorites.
Week 5: (Nov. 27 to Dec. 1) — Lory @ Emerald City Book Review — New to My TBR: It's been a month full of amazing nonfiction books! Which ones have made it onto your TBR? Be sure to link back to the original blogger who posted about that book!
Nonfiction Book Swap Sign-Ups
This year, we'll also be bringing back the nonfiction book swap! If you sign up for this swap, you're committing to sending your swap partner at least one nonfiction book (or more if you want), mailed/ordered in time to arrive by the end of November. You can send books yourself or order them and have them sent directly to your partner. Katie, who is organizing the swap, suggests Book Depository as a great way to send books internationally if you and your partner are in different countries. Sign-ups will be open until November 3 and partner information should go out to everyone by November 5.  You can fill out the form to join the book swap at this link.
Ok. I think that's it! I hope you'll consider joining us for Nonfiction November. If you post on social media, please use the hashtag #nonficnov so we can also try to promote and share those posts. Feel free to leave any questions in the comments!