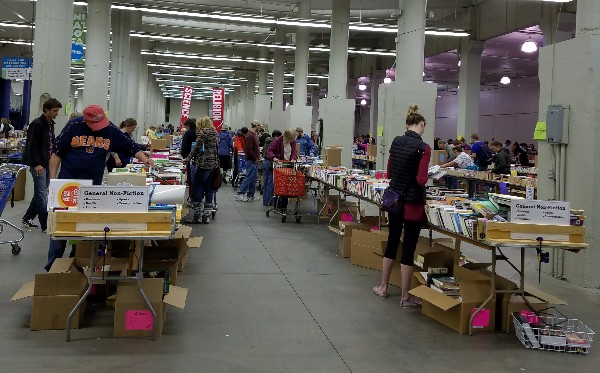 Happy Sunday! A couple of weeks ago Jenny at Reading the End decided to launch a little project called Something on Sunday, a way to celebrate the little things in life and share some love for the things that matter most. She encouraged people to blog every Sunday "about something that kept you on your feet that week":
… whether that's a person that inspired you, an action you took that you're proud of, a book or movie or TV show that nourished your heart, a self-care strategy that worked for you, a goofy event or moment that brought you joy. Whatever it is, every Sunday, I want you to tell me something that matters to you.
So, I'm in. This week my something on Sunday is decidedly bookish, although I am sure that will be the case for most Sundays going forward. But this week… let's talk about cheap books!
Half Price Books, for those of you unfortunate enough to not have that chain nearby, is a store where you can get… half price books. I take piles of books there to trade in pretty regularly, only to turn around and spend more on new books on the trip. It's a vicious cycle.
Every year, all of the Half Price Books locations in the Twin Cities team up to host a giant clearance sale in the Grandstand at the Minnesota State Fairgrounds. All books are less than $3. Most are $2. They pile books up on these long tables — sort of organized, but mostly not — and then let you in to just shop. It is amazing — kind of like a library book sale on steroids.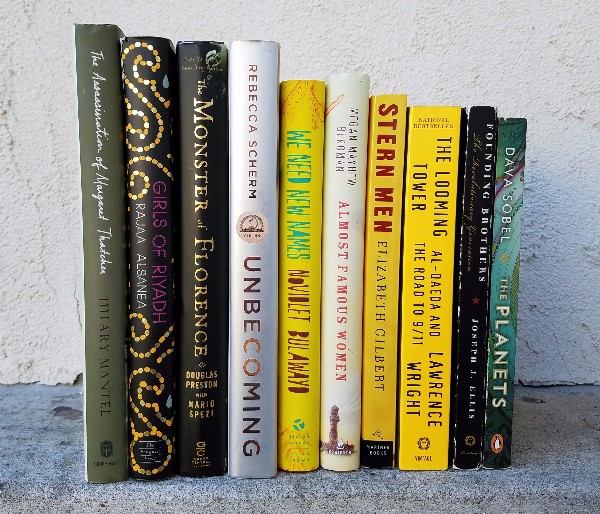 I managed to mostly contain myself this year, only grabbing 10 books (and two of them are short story collections I've already read, just didn't have in my permanent collection). That seems remarkably restrained. Here's what I grabbed:
The Planets by Dava Sobel — Science! Space!
Founding Brothers by Joseph Ellis — American history! Hamilton!
The Looming Tower by Lawrence Wright — Pultizer Prize winner! Also, Al-Quaeda.
Stern Men by Elizabeth Gilbert — Fiction!
Almost Famous Women by Megan Mayhew Bergman — Short stories!
We Need New Names by NoViolet Bulawayo — Fiction!
Unbecoming by Rebecca Scherm — Fiction! Psychological thriller!
The Monster of Florence by Douglas Preson and Mario Spezi — True crime! Italy!
Girls of Riyadh by Rajaa Alsanea — Fiction! In translation! From Saudi Arabia!
The Assassination of Margaret Thatcher by Hilary Mantel — Short stories!
I did not pick up a copy of The Way Forward by Paul Ryan, which someone hilariously piled up in the fiction section. Good job, book nerds.