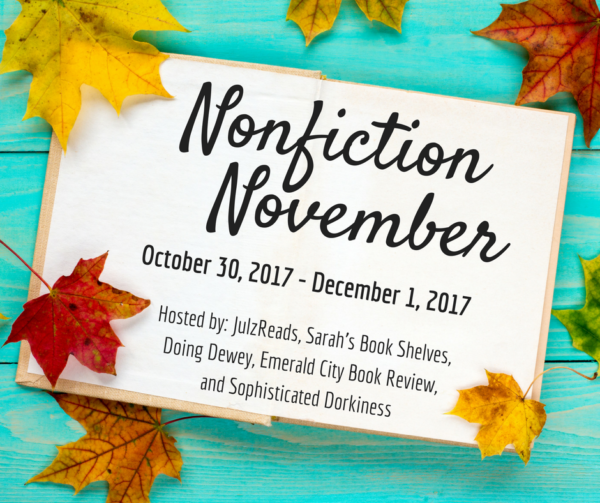 The first week of Nonfiction November was so much fun. I didn't get to read all of the posts because of some life constraints, but the ones I did get to read were great. Thanks to everyone who has participated so far!
The second weekly prompt for Nonfiction November is Book Pairing, hosted by Sarah @ Sarah's Book Shelves:
This week, pair up a nonfiction book with a fiction title. It can be a "If you loved this book, read this!" or just two titles that you think would go well together.
Earlier this year, I had one of the best movie-going experiences of my life, Wonder Woman, which is the inspiration for today's response. Before seeing the movie, I knew that representation was important, and that there's something significant in seeing someone who looks like you on a screen doing the cool things we all love. But I didn't really understand the emotional impact that representation can have until I had to hold myself back from cheering and crying when saw Gal Gadot pick up a truck and throw it at a bunch of German soldiers.
Ever since seeing the movie, I've joined the legion of new fans trying to understand this character and dig into her long history in the comic book world. Two books I've read this year that I really loved have been (fiction) Wonder Woman: Warbringer by Leigh Bardugo and (nonfiction) Wonder Woman Unbound by Tim Hanley.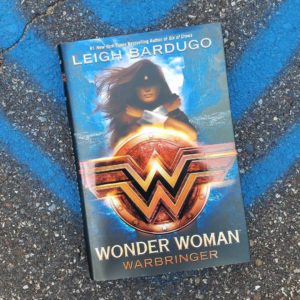 On the fiction side Wonder Woman: Warbringer is a new take on Wonder Woman's origin story set when Diana is a teenager. Like many other origins, this book begins with a rescue. The human Diana saves is Alia Keralis, another teenager who turns out to be a Warbringer – a descendant of Helen of Troy destined to bring an age of bloodshed to the world. With help from the Oracle, Diana realizes she can help save Alia and save the world, so they set out together to do just that.
Like all of Bardugo's novels, the cast of characters in this book is just stellar. They're vivid and funny and flawed and so fun to spend time with. This take on Diana's first foray into the human world, complete with romance, technology, and friendship, captured the spirit of Wonder Woman in a satisfying way, while also updating her story to fit a new generation of readers. I adored it completely.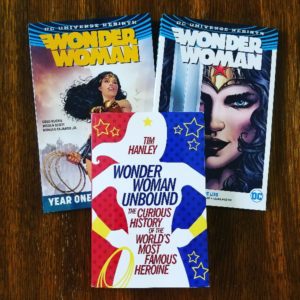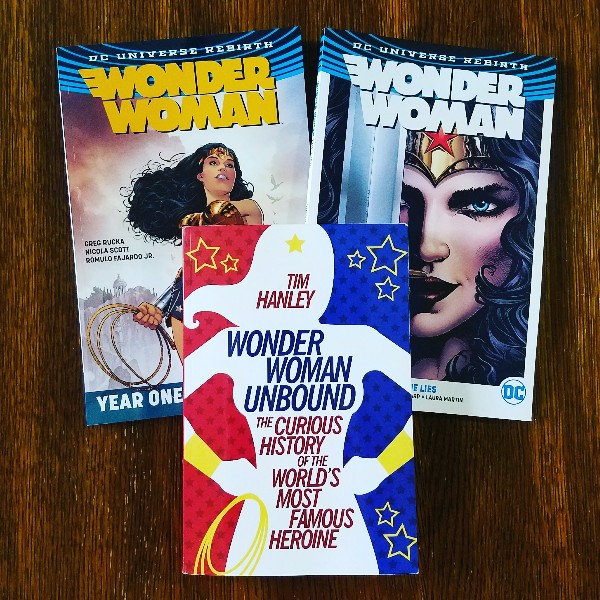 Wonder Woman Unbound is an academic's look at the history Wonder Woman, from comics to the small screen (since it was published in 2014, it doesn't include the recent movie). The book was a delight, a perfect mix of nerdy humor, data and close reads of the Wonder Woman comics published since the 1940s. Hanley convincingly argues that portrayals of Wonder Woman – more than those of most comic book heroes – reflect the motivations of a particular creator rather than the complicated, slightly subversive values of her original creator William Moulton Marston.
Hanley is a comic book historian, so his take on Wonder Woman can be a little academic in sections. There's a whole chapter on bondage themes in the comics, which includes a number of charts tracking the specific instances and context for bondage references. The book is still absolutely readable, and in parts very funny, it's just not the typical narrative nonfiction that I like to recommend.
Thanks again to everyone who has participated so far. And don't forget you can join us over on Instagram for our photo challenge using the hashtag #nonficnov. If you follow the hashtag, you'll find the list of prompts. I hope you'll join us!